South Tynside Council Lights Up the Season with Festive LEDs

Home » Blog » LED Panel Light News » South Tynside Council Lights Up the Season with Festive LEDs
A bright idea is taking shape this festive season following the introduction of a new hi-tech flood lighting system at South Shields Town Hall.
The Grade II Listed landmark has been given a spectacular makeover by being illuminated with dramatic multi-coloured lighting as part of the Borough's Christmas celebrations. The festive sequence sees strobes of colour beamed on to the Edwardian building and its grand Clock Tower.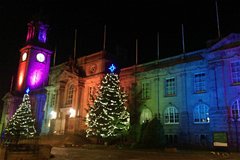 South Tynside Council festive LED lights. (South Tynside Council/LEDinside)
It is just one of the features of the town hall's new state-of-the-art lighting system which has involved the replacement of the previously used high energy bulbs with new eco-friendly white LED lights. The new lights provide a softer white effect on an evening.
However, the system can also be programmed to display colour changing lighting effects so that the town hall can be lit up in colour to celebrate occasions or mark annual campaigns throughout the year, such as green for Local Environment Week, pink for Breast Cancer Awareness or, as most recently demonstrated, blue to mark World Diabetes Day.
As the new technology uses low energy lights, energy consumption is reduced by around 82 per cent, in turn, helping to lower the Council's energy bill further by using sustainable and energy efficient solutions. External funding available for energy efficiency schemes was used for the project.
Councillor Tracey Dixon, Lead Member for Area Management and Community Safety, said: "South Shields Town Hall is a significant local landmark with its fine architecture and imposing style. We have been looking at better, more efficient, ways of lighting it up, not just at Christmas but at other key times during the year.
"We've installed new white LED lights which act as the standard flood lighting for the town hall at night. Rather than giving off a yellowish glow, they are dazzling and bring a fresher feel to this historic building with its magnificent features beautifully lit with a cleaner, clearer white light, all year round.
"We are delighted with the results. These wonderful lights are not only helping us to reduce our carbon footprint and make significant savings on our energy costs, but they look great. They will also give us the opportunity to show our support for good causes or annual events. The new festive colours really complement the Christmas trees outside the town hall and are sure to help get residents and visitors into the Christmas spirit."
Category:
Blog
,
LED Panel Light News
| Tags:

Other Items in this category