Berlin Celebrates the 10th Anniversary of Festival of Lights

Home » Blog » LED Panel Light News » Berlin Celebrates the 10th Anniversary of Festival of Lights
Philips Lumec blog contributor Monique Cousineau highlights some of this year's popular displays at Berlin Festival of Lights.
Here's an event to add to your must see list. A few weeks ago, one of the most popular lights festival in the world celebrated its 10th anniversary with a 10 day extravaganza transforming the city of Berlin into a large exhibition space where each night, many famous landmarks and historical monuments were used as canvas for illustrious and flamboyant light projections: the Brandenburg Gate, the TV Tower, the Berliner Dom Cathedral, the Funkturm Radio tower and many other buildings and squares.
Last year 2 million visitors were on hand for the Berlin Festival of Lights. Over the years, it is estimated that over 1 billion people have attended Germany's outstanding light festival.
Here is a photo recap of a few installations that took place and transformed the city of Berlin into a lighted empire.
"Berlin's FESTIVAL OF LIGHTS invited designers, creative people and artists to design the facade of the monumental building with their vision of joy of life."
The Berliner Dom Cathedral


Left: (Photo credit of Festival of Lights/Frank Hermann) Right: ( Photo credit of Festival of Lights/Gregor Anthez)
Brandenburg Gate was once again one of the key venues of the Festival with a 3D video mapping entertaining game. Afterwards, the visitors were witness to a plethora of joyful motifs celebrating 25 years of the Fall of the Berlin Wall. Director Wolfram Lenssen conjured up the emotional work of art assisted by the talented 3D artists, Hannes Neumann, and musician Daniel Kurniczak.

LUMISSIMO Berlin Cathedral
LUMISSIMO is an exclusive kind of concert that takes a famous classical music masterpiece adds a modern laser harp and light show to create a unique musical sensation. Last year, the LUMISSIMO concert and laser show was so successful that it was brought back this year for the 10th anniversary of the Festival. The program presented the "Ode to Joy" from the 9th Symphony of Ludwig van Beethoven alongside the great Sauer-organ of the grand and glorious Berlin Cathedral.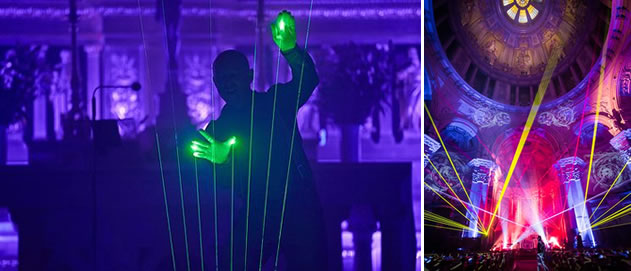 VIDEO- LUMISSIMO 2013
Gardians of Time by Manfred Kielnhofer
The mystical figures "Guardians of Time" have returned to Berlin for the festivities. Created by Austrian artist Manfred Kielnhofer, the figures are stone statues that are cloaked in hooded robes and situated to seem like they are moving in some kind of ritual. Sometimes they stand alone; and other times they are grouped together. The artist likes to place his statues in public spaces like plazas, parks and ancient castles. "They are installed and moved without fanfare, heightening the eerie, mystic aura they give off."

Category:
Blog
,
LED Panel Light News
| Tags:
led lamp
led light
led solution
leds
panel led

Other Items in this category