New Low Voltage Portable Explosion Proof LED Light from Larson Electronics

Home » Blog » LED Panel Light News » New Low Voltage Portable Explosion Proof LED Light from Larson Electronics
Larson Electronics has announced the release of a pedestal mounted explosion proof light that is a low voltage lighting solution which uses advanced LED technology and an industrial grade design to provide operators in hazardous locations with excellent illumination and low voltage operation.
This LED light produces 6,020 lumens and is equipped with an inline transformer that steps down standard 120V-277V AC current to 12 VDC for applications requiring low voltage operation.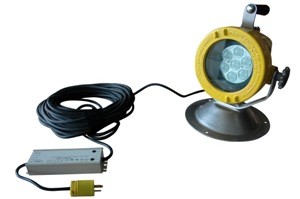 EPL-BS-70LED-6XMB-150X12 Low Voltage Portable Explosion Proof LED Light
The EPL-BS-70LED-6XMB-150X12 from Larson Electronics provides 6,020 lumens of light output in a portable and rugged explosion proof lighting package. The LED lamp assembly in this unit produces higher quality illumination with better color rendering and contrasting than typical 400 watt halogen lamps while drawing only 70 watts at 5.84 amps. It produces a brilliant 40° flood pattern of light that is ideal for high vibration environments and general illumination in any confined space such as tanks and manholes. Designed with durability in mind, this unit features high output LEDs fitted within a housing constructed of copper free aluminum with a ¾" thermal shock and impact resistant tempered glass. A thermoset powder coated finish and threaded joints lubricated with non-drying lubricant provide added durability and reliable explosion proof protection.
This explosion proof fixture is comprised of a 70 watt LED light head mounted atop a 12 ½" diameter circular base fabricated from non-sparking spun aluminum and includes a convenient carrying handle mounted to the top of the light head. The aluminum base has three 200lb grip magnets and three 100lb grip magnets to allow the fixture to be temporarily mounted to any metallic flat surface for maximum stability. The lamp can be easily adjusted up or down 90° and locked into position by simply loosening the two hand screws located on either side of the light head. Included with this unit is an inline transformer which steps 110-277 VAC current down to 12V/24V DC for low voltage operation and 150' of SOOW cord terminated in a 5-15 straight blade plug.
"The EPL-BS-70LED-6XMB-150X12 was designed to meet the market needs for a high powered, low voltage LED explosion proof lights," said Rob Bresnahan with Larsonelectronics.com. "Equipping it with magnets makes it suitable for tank cleaning operations since temporary lighting is required. These lights also keep the floor space clear which reduces tripping hazards."
Larson Electronics produces a full range of industrial and commercial lighting equipment, metal halide and LED light towers, industrial grade explosion proof lighting solutions and a full line of heavy duty LED work lighting. To view the entire Larson Electronics line of industrial grade lighting solutions, visit them on the web at Larsonelectronics.com. You can also call 1-800-369-6671 to learn more about all of Larson Electronics' lighting products or call 1-214-616-6180 for international inquiries.
Category:
Blog
,
LED Panel Light News
| Tags:

Other Items in this category