Creative Dynamic LED Light Box Concept with ARCs Control System

Home » Blog » LED Panel Light News » Creative Dynamic LED Light Box Concept with ARCs Control System
In the Taipei City Hall Station's passageway, there is one LED dynamic light box particularly created by ARC for the UNI-President Corp. Following the tea advertisement on April, 2013, ARC SSL. customized the milk advertisement for Union President Corp. to attract attention of passengers and shows dynamic effects to break the stereotype of traditional advertising light boxes, and significantly enhance advertising effectiveness to achieve environmental benefits and energy saving.
Built-in LED light source to replace the traditional fluorescent tubes, not only in the illuminance on further improvement, but also in accordance with the new trend of energy saving of up to 70%, will greatly reduce maintenance costs and  cost-effective countermeasures.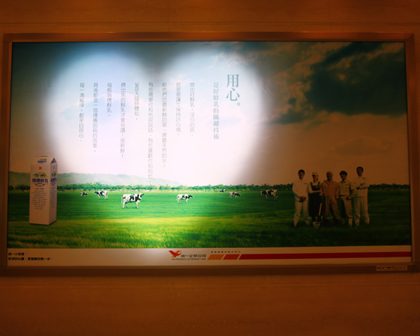 LED Lighting Design
Unlike the display of the traditional advertising light boxes, the dynamic lighting effects of the milk advertisement created by ARC SSL. The design is based on the customer's requirements and the advertising content, which utilizes the characteristics of the dynamic lighting effects not only to emphasizes the advertising appeal, but also makes it more vivid to enhance the advertising effectiveness significantly.
Customized Advertising Light Boxes
ARC SSL. dynamic light box applies high quality LED sources with brightness and uniformity to avoid zebra striped shadows. As it is clear, long life and stable to reduce maintenance and installation costs.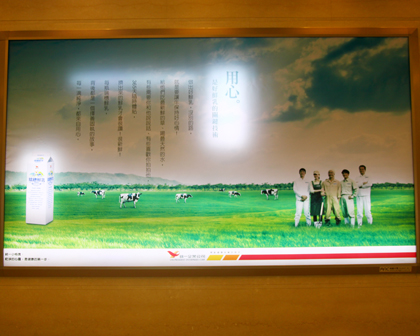 Why select ARC SSD Lighting?
1. Interference Resistance: The systems structure for signal communication is implemented in series, which is less susceptible to interference compared to the parallel structure typically used. This is an advantage especially when the device is installed outdoors the signal transmission might fail when interfered with by the weather or noise, causing system instability or transmission loss. The reliability and robust structure of ARC's lighting control system is a major advantage that is valued greatly by our clients.
2. Easy Installation (patented polarity-insensitive connection): Taking the convenience of installation, testing and commissioning into consideration, there is no need to worry about the positive or negative terminals for the DMX signal; the correct polarity of the terminals are automatically corrected when inversed.
3. Easy Installation (patented auto addressing function): It does not require any software or hardware settings and will automatically determine the ID, eliminating the process of software and hardware setting during installation and reduce the trouble of wrong ID sequence connections which take a lot of time to rectify and cause delays to project completion.
4. Long Transmission Distance: The DMX signal can reach 100m; SPI signal can reach 2m.
5. Large Data Transmission: Exclusive DMX+ communication protocol; using DMX512 as a basis, when compared to DMX512, the number of nodes for the same port can reach 3.072 channels, which is 6 times the transmission capacity compared to traditional DMX512; its transmission bandwidth of 1M bps is also 4 times that of the DMX512.
6. High Resolution: 16 bits Gamma Correction, with 65,536 grayscale for every channel, makes color graduation and transition effects suitable for demanding applications.
With many patented designs and technology, ARC's complete system planning not only achieves budget control for clients, we provide new illumination solutions that perfectly balances art and functionality, properly achieving the goal of saving cost and simplifying system applications. With ARC's dedicated light effect editing software, it allows you to edit the various different light effects for your need.
Project Details:
?Category Retail
?System & Lighting Design ARC SSL.
?Exterior Restoration UNI President
?Location UNI President Corp. , Taipei,
?Date 2013, 09
Lighting Control System Equipment for the integrated system
Product Model QTY.
?DMX 4096 Controller ARC5001-B1 1
?DMX Multi-Channel Converter ARC3730 5
?LED Flexible Strip White & User-defined 2m/ 80pcs
 
Product Used:
1. DMX Controller ARC5001-B1
2. DMX Multi0 Channel Converter ARC3730
3. LED Flexible Strip(White/ Customized)
ARC Lighting Corp. designs customized intelligent lighting system solutions for each client.
Category:
Blog
,
LED Panel Light News
| Tags:
led bulb light
led components
led high brightness light
led light panel fixtures
led lighting

Other Items in this category