Sabrino Santano from Philips Lighting introduces U.S. artist Janet Echelman new net sculpture on display in Vancouver, Canada in this new blog entry.
Vancouver, British Columbia has always been known for its great scenery and panoramic views of snowy mountain tops overlooking the Pacific Ocean. However, since Saturday something out of the ordinary is making people look up in awe, thanks to American artist Janet Echelman. Recognized for her net sculptures in many cities around the globe, Echelman takes her art to a whole new level in Vancouver with the recent unveiling of her latest – and most challenging – aerial sculpture, "Skies Painted with Unnumbered Sparks", coinciding with the commencement of the 30th annual TED Conference in Vancouver.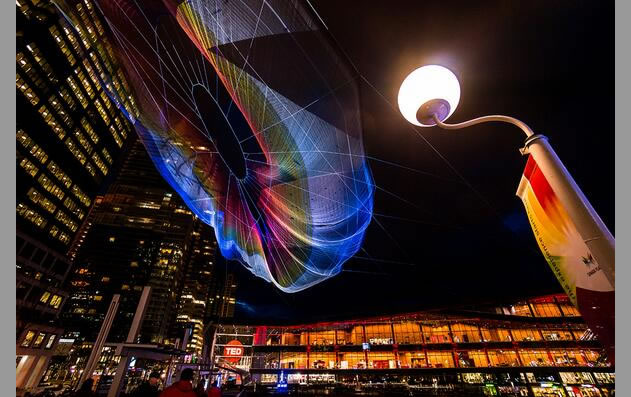 The net sculpture displayed outside of TED building at night. (Photo courtesy of Julien Abril, Graphics eMotion)
Suspended in the sky of downtown Vancouver Janet Echelman's new urban interactive masterpiece is attracting a lot of attention. This massive aerial sculpture is over twice the size of her previous projects, making it her largest project to date! With a length of 745 ft., a width of 475 ft. and a height of 175 ft., this epic art piece spreads from the 24-story Fairmont Vancouver Hotel across to the Vancouver Convention Center – making it a focal point for anyone in the area.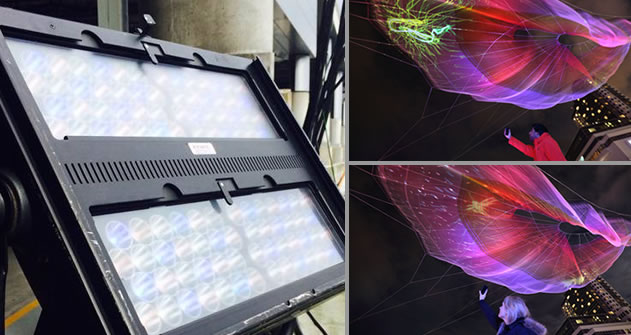 Collaborating with interactive Data Artist Aaron Koblin, Creative Director, Data Arts Team, Creative Lab at Google, Echelman was able to use modern technology to add a whole new interactive dimension to her artwork. Google selected Graphics eMotion, a new media arts company in Montreal that specializes in large scale installations and immersive experiences to help produce the interactive aspects of the project. "We created the concept for the interactive video projections and the lighting design per Aaron Koblin's vision and needs and worked hand in hand with the data artist and his team to make the sculpture interactive with the use of cell phones and tablets," said Julien Abril, President and Co-Founder of Graphics eMotion.
The interactive effects on the netted sculpture are created using a total of 18 lights and 5 projectors, including ColorReach Powercore LED Floodlights from Philips Color Kinetics.
The result is so much more than just a work of art. During the day this sculpture subtly blends in with the sky, but then comes to life at night through brilliant interactive illumination. The dynamic sculpture captures attention and allows visitors to use physical gestures to choreograph color changes in lighting by waving their mobile devices.
This installation will remain in Vancouver until March 22 before traveling to different cities throughout the world. "Skies Painted with Unnumbered Sparks" is Janet Echelman's second project in British Colombia. She created the aerial sculpture, "Water Sky Garden" for the 2010 Vancouver Winter Olympics Games.
Category:
LED Industry News
,
LED Panel Light News
| Tags:
led bulb light
led components
led high brightness light
led lighting
LED products

Other Items in this category