Lucibel Becomes a Lighting Supplier for PSA PEUGEOT CITROËN Group Car Showrooms

Home » LED Industry News » LED Panel Light News » Lucibel Becomes a Lighting Supplier for PSA PEUGEOT CITROËN Group Car Showrooms
Lucibel is proud to announce that PSA PEUGEOT CITROËN Group has become one of its Key Account customers, via Peugeot Citroën Retail, which combines both Peugeot and Citroën's own distribution networks. Lucibel has already equipped nearly twenty Peugeot dealerships in France and has launched the initial studies for the Citroën dealerships
Lucibel has equipped nearly 20 Peugeot dealerships in France with its LED lighting panels (LuciPanel) and suspended industrial LED luminaires (LuciBay) to better highlight the vehicles on display. These two product ranges offer Peugeot dealership customers unparalleled visual comfort and a vehicle color rendering extremely close to reality.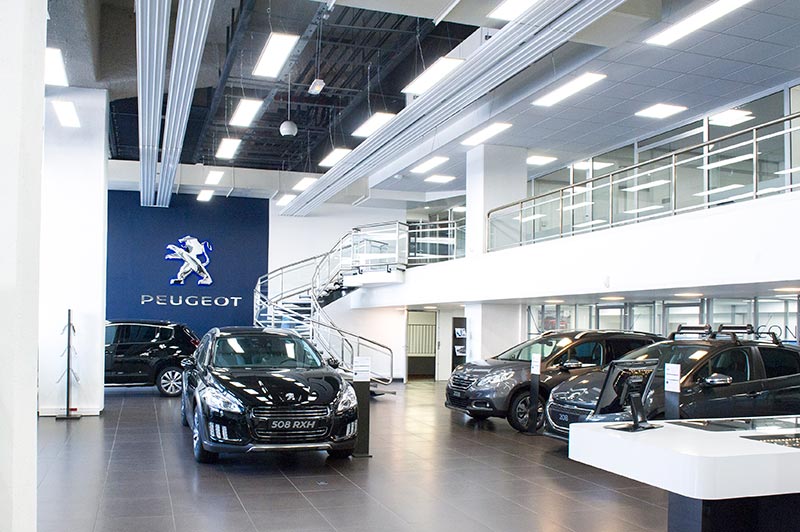 For each project, Lucibel carried out lighting studies to take into account the constraints and needs of each specific dealership.
The products installed by Lucibel allow a reduction in lighting-based electricity consumption of over 50 percent. Their 50,000-hour operating life considerably limits maintenance issues, historically very complex due to the very high ceilings in auto showrooms. Durable and reliable, these new lighting solutions enable dealership teams to focus on selling their products, which are now better showcased.
"Lucibel was able to offer us a solution that was perfectly adapted to and in line with the visual identity of our dealerships, where the key concepts are premium, technology and quality," said Olivier Peller, from Peugeot Citroën Retail. "Today our vehicles are much better highlighted, and our showroom maintenance has been hugely simplified. We especially appreciated the adaptation of Lucibel's solutions to the constraints of each dealership, and the fact that they offer tailor-made after sales service."
"Given the success of the installations in these first twenty dealerships, we are envisaging deploying Lucibel products in our export facilities in the European market in the coming months, mainly in Germany and Great Britain", added Peller.
"PSA PEUGEOT CITROËN Group is now one of Lucibel's Key Account customers, and they perfectly illustrate our strategy to supply demanding professional customers with LED lighting solutions completely adapted to their identity and their needs" explained Frédéric Granotier, Lucibel's CEO.
Category:
LED Industry News
,
LED Panel Light News
| Tags:
led bulb light
led components
led light
led light panel fixtures
leds

Other Items in this category