Universal Display and IDD Aerospace Exhibit an OLED Lighting Prototype for Aircraft Interiors

Home » LED Panel Buyers Guide » LED Panel Light News » Universal Display and IDD Aerospace Exhibit an OLED Lighting Prototype for Aircraft Interiors
Universal Display Corporation, enabling energy-efficient displays and lighting with its UniversalPHOLED® technology and materials, announced it exhibited with partner IDD Aerospace/Zodiac Lighting Solutions a white OLED lighting prototype for aircraft interiors at the U.S. Department of Energy's (DOE) 11th annual Solid-State Lighting (SSL) R&D Workshop in Tampa, FL. The workshop took place January 28–30, 2014.
In June 2013, Universal Display was awarded a US$ 225,000 Small Business Innovation Research (SBIR) Phase I program from the DOE. Under the program, titled "Novel Energy-Saving Phosphorescent OLED Lighting Products," Universal Display partnered with and subcontracted IDD Aerospace/Zodiac Lighting Solutions to evaluate and demonstrate the potential for energy-efficient and cost-effective white OLED lighting panels for aircraft interiors.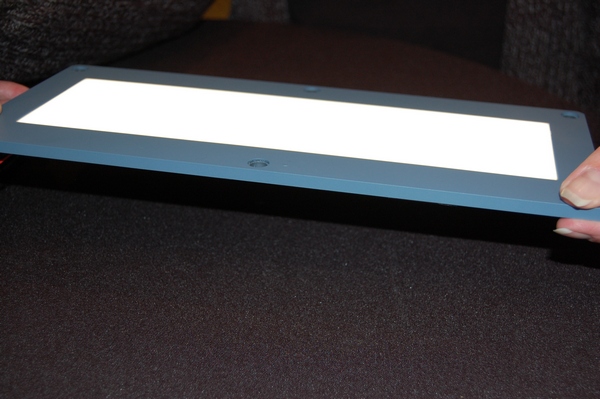 The shelf utility OLED prototype displayed at DOE's R&D Workshop demonstrated a very slim and energy efficient lighting solution for aircraft interiors. The companies believe that the data generated by developing this shelf utility light may be applied to larger-scale OLED lighting aircraft projects, including cabin applications for interior furniture, galley, interior structure enhancements, as well as other potential adoptions in cabin accent, task, ceiling and sidewall lighting, and sign backlighting.
"We are looking forward to adapting OLEDs into the aircraft environment as an innovative and welcome change in aviation," said Beth DeYoung, General Manager, IDD Aerospace/Zodiac Lighting Solutions. "Our lighting enhances our customers' experience and modifies how we think about lighting and what it can provide. It is exciting to be working on the first prototype for aircraft interiors, and we are looking forward to continuing our partnership with UDC."
"We are excited to have showcased this energy-saving shelf utility OLED lighting prototype for aircraft interiors, which is a result of our collaboration with IDD Aerospace/Zodiac Lighting Solutions," said Steven Abramson, President and Chief Executive Officer of Universal Display. "OLED lighting offers several significant advantages over current fluorescent, incandescent and LED lighting technologies, from reducing an aircraft's carbon footprint, lowering fuel consumption to opening up the design restrictions of current lighting solutions. Universal Display is focused on developing and furthering energy efficient, thin, lightweight OLED lighting solutions for this market, and we believe this prototype demonstrates the potential for high-efficiency, high-performance PHOLED lighting panels in aircraft utility lighting applications."
The DOE has mde a long-term commitment to the development and introduction of energy-efficient, solid-state white lighting. Universal Display is a recognized leader in OLED technologies, and its UniversalPHOLED technology and materials have been essential to demonstrating high performance white OLED lighting panels that meet the DOE's solid-state lighting targets. Additionally, Universal Display is at the forefront of developing complementary OLED technologies, including light extraction, thin-film encapsulation, and flexible OLED technologies.
Category:
LED Panel Buyers Guide
,
LED Panel Light News
| Tags:
led
led components
led high brightness light
led light panel fixtures
LED products
oled
oled panel

Other Items in this category