MaxLite brings greater power and versatility to the outdoor lighting market with the newest generation of StaxMAX LED flood lights.
MaxLite has increased the base wattage to 180W in the StaxMAX, the unique line of high-output, energy-efficient lighting that allows consumers to create custom distribution packages by mixing modules on a single fixture. The StaxMAX can be specified as a 180-, 360- or 540-watt fixture that can replace up to a 1500-watt metal halide. Each of the three modules can have a narrow, medium or wide beam angle, allowing users to have all three optics in one luminaire.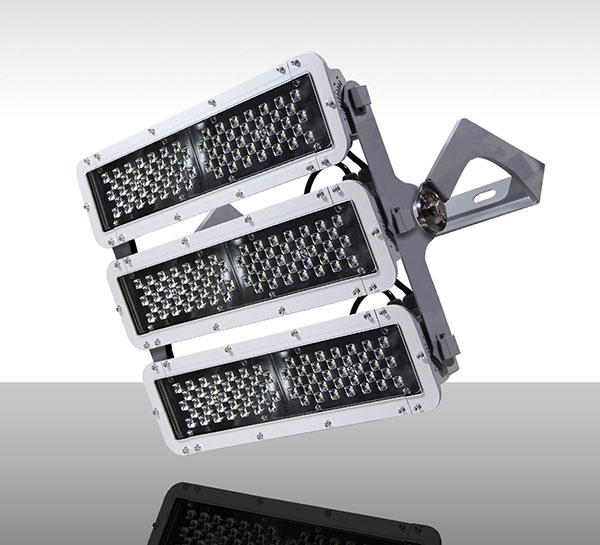 Certified by DesignLights Consortium (DLC), the StaxMAX delivers up to 56,910 lumens and qualifies for significant utility rebates nationwide. MaxLite will continue to offer the previous 135-watt base module for applications that require a lower wattage lighting solution.
"With the addition of the 540-watt option, the StaxMAX truly is the most powerful and versatile outdoor fixture in the market," said Product Manager Francisco Garza. "No other flood light allows the consumer to achieve multidirectional illumination and multiple beam angles from a single mounting point."
StaxMAX LED Flood Lights are designed and engineered for use in a multitude of general area, architectural and security lighting applications, including parking lots, car dealerships, sports parks, facades and marine harbors. The fixture is constructed with a die cast aluminum body that acts as a heat sink, enabling a long, L70-rated LED lifetime between 75,000 and 90,000 hours, depending on the wattage selected. A tempered glass lens seals the module to protect against dirt, dust and water ingress to an IP65 rating.
The StaxMAX is compatible with leading industry controls and sensors for additional energy savings.
Category:
LED Panel Buyers Guide
,
LED Panel Light News
| Tags:
led high brightness light
led light panel fixtures

Other Items in this category