Osram is launching the world's first product based on OLEDs for car interiors in the form of a new reading lamp. The OLED Reading Light consists of a high-quality matt aluminum housing and provides a very warm and uniform light. "With the launch of the Osram OLED Reading Light in the fall we are once again providing evidence of our technological leadership and powers of innovation in the automotive lighting sector", said Hans-Joachim Schwabe, CEO of the Osram Specialty Lighting Business Unit.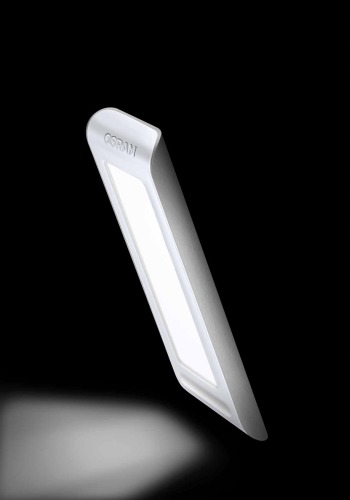 Thanks to its homogeneous light which neither casts shadows nor dazzles, OLED technology is ideal for applications in which the eyes have to focus on one point for a long time. With a color temperature of 3300 kelvin the light is very warm, and the brightness of the OLED panel is continuously variable. The OLED Reading Light has been optimized for use in a car and can be recharged via a USB cable. It is therefore available at all times as a light source. An indicator at the USB port shows the battery charge status. A clip at the back of the Reading Light enables it to be easily attached to the sun visor for example.
An eco-friendly and sustainable light source
The OLED Reading Light is far superior to conventional light sources such as incandescent and halogen lamps in terms of energy efficiency and lamp life.
Category:
LED Panel Buyers Guide
,
LED Panel Light News
| Tags:
LED products

Other Items in this category