NGL Indoor Competition 2014 At The LED Show in Los Angeles, CA this past September, the US Department of Energy (DOE) announced 57 commercial LED indoor lighting products recognized for excellence by the Next Generation Luminaires (NGL) Solid-State Lighting (SSL) Design Competition. Jointly sponsored by the DOE, the Illuminating Engineering Society of America (IESNA), and the International Association of Lighting Designers (IALD), the 2014 indoor competition saw 266 total products submitted, with 153 products making it to the final evaluation. The judges awarded four submissions as "Best in Class" and 53 others as "Recognized" winners. A panel of 10 judges evaluated entries over 3 days in August, reviewing independent testing documentation, photometric files, LED data sheets, and driver specifications. Each luminaire was installed in an indoor environment closely matching the intended product application. Judging took place at the Intelligent Lighting Creations facility near Chicago; a motorized ceiling enabled the luminaires to be evaluated at proper mounting heights. BEST IN CLASS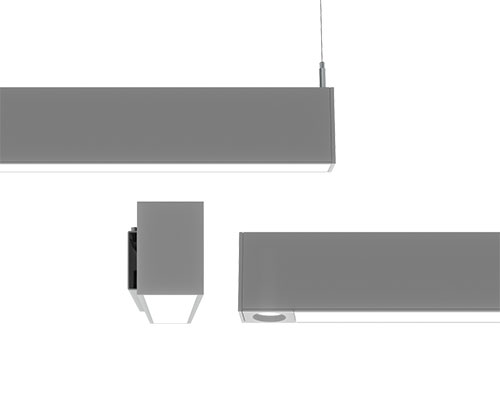 Slot 2 & 4 LED linear luminaires by Acuity's Mark Architectural Lighting The Slot family of fixtures can be pendant, surface, or wall mounted and can be specified in direct- or indirect-lighting configurations, and in 2- or 4-in. widths as the product name implies. Judges lauded the excellent diffusion and high output relative to the aperture. A representative Slot 2 model delivers 8412 lm from 98W for an efficacy of 86 lm/W. The products have a CCT of 3500K and a CRI of 82.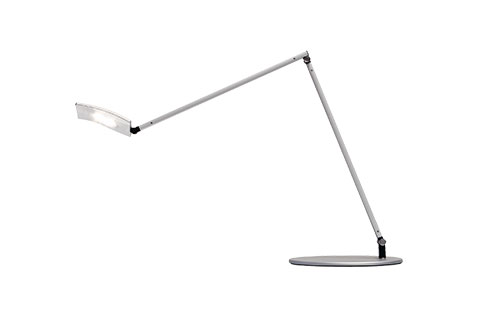 Mosso Pro LED Desk Lamp by Koncept The task luminaire scored high with judges based on light distribution and color rendering – and the variable CCT offered in the desk lamp. The product features touch-based controls and an integral occupancy sensor. Total light output is 542 lm from 5.5W for efficacy of 99 lm/W with a warm-end CCT of 2800K and CRI of 83.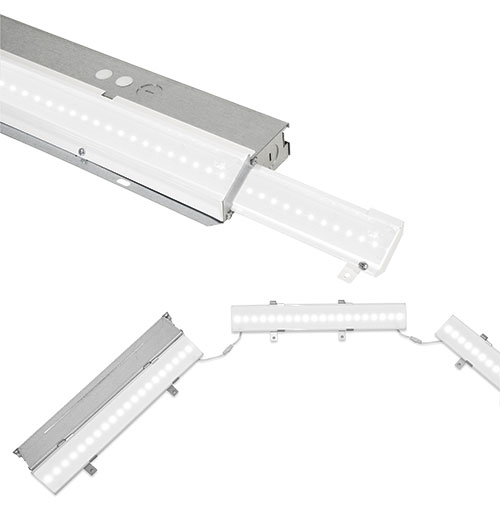 Series 11 LED Micro Profile and Micro Flex Cove Luminaires by Finelite The product pair includes the linear Profile luminaire with a telescoping variable-length light engine and the Flex luminaire that can be matched to concave and convex surfaces – both of which allow great flexibility for lighting designers. The products are offered across 3000K, 3500K, and 4000K CCTs at a CRI of 83. The products deliver a maximum of 1797 lm at 20W for an efficacy spec of 91.7 lm/W.

LS Series by Cree The surface- or pendant-mount linear luminaires are designed to replace fluorescent strip and wrap fixtures. The serviceability was deemed excellent by the judges with tool-less entry to the driver compartment. The products are offered in a choice of 3500K, 4000K, and 5000K CCTs with CRI over 90. The 3500K product can deliver 4000 lm from 44W for an efficacy of 91 lm/W.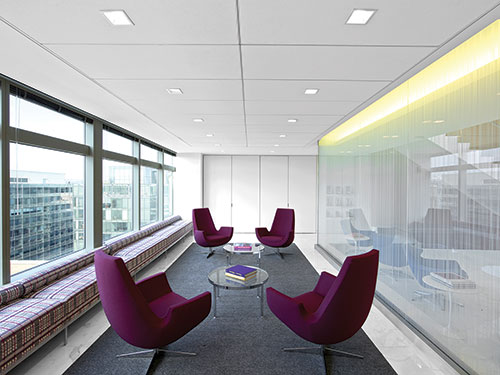 BeveLED 2.0 Color Select by USAI Lighting The color-tunable downlight allows for separately adjustable CCT and dimming level using either room-side controls or network-based control systems. The color output is adjustable from a very warm 2200K to 6000K, and brightness is adjustable from 0.1-100%. At a CCT of 3099K and CRI of 83, the luminaire can deliver 1517 lm from 30W for an efficacy of 51 lm/W.   Aculux 3.25-in. LED Luminaires by Juno Lighting Group The Aculux Series enables both Black Body Dimming and Tunable White Technology. The former enables the CCT to drop from a 3000K CCT to 1800K when dimmed, matching halogen-type performance. The Tunable White Technology enables a choice of CCTs between 2000K and 4350K. At 3000K and CRI of 79, the product delivers 1002 lm from 20W for an efficacy of 51 lm/W.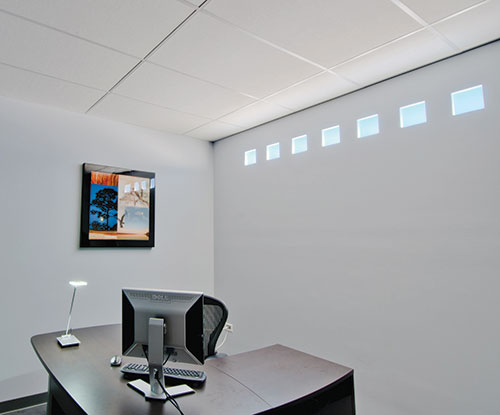 Aera by Acuity's Winona Lighting Aera won recognition as an Emerging Luminaire, one of three such recognized products, implying that the technology might not be fully commercially deployable at this time. Still, the concept is stunning as window-like luminaires deliver tunable output for mood setting or daylight simulation. At a CRI of 3000K and CCT of 82, the luminaire delivers 1700 lm from 24W for an efficacy of 71 lm/W. DOWNLIGHTS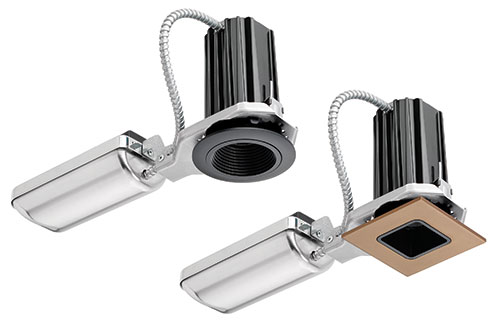 2-in. LED Round and Square Downlights by Juno Lighting Group The downlights offer a choice of round and square trim with retrofit installation and serviceability enabled below the ceiling. The judges lauded good color properties, glare control, and smooth dimming. A 2-in. model can deliver 695 lm from 10W for an efficacy of 67 lm/W. Juno offers a broad choice of CCTs from 2700K to 4100K and CRI of 80 or 90 minimum.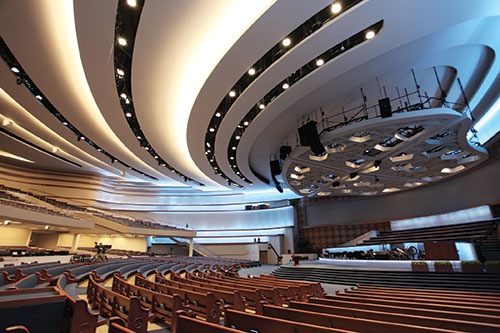 Cylinder Series High-Ceiling LED Platform by Meteor Lighting Designed for applications such as auditoriums, the Cylinder Series supports 0-10V, DALI, DMX, and VX DMX (digital video optimized DMX) controls. The judges warned of high cost but noted that the product delivers excellent performance for high-occupancy venues. The fixtures can deliver 19,043 lm from 173W for an efficacy of 110 lm/W. Those specs are for a 5620K-CCT model with CRI of 72.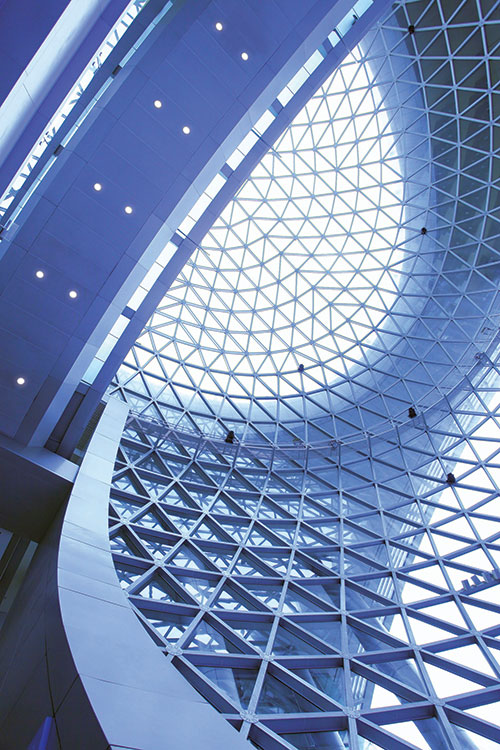 ID LED High-Ceiling Downlight by Focal Point The judges lauded the flexibility of the product with options in terms of beamspread, lumen output, and drivers, and the glare control and good color properties. A typical 3500K-CCT product delivers 5830 lm from 69W for an efficacy of 84 lm/W, and CRI of 84.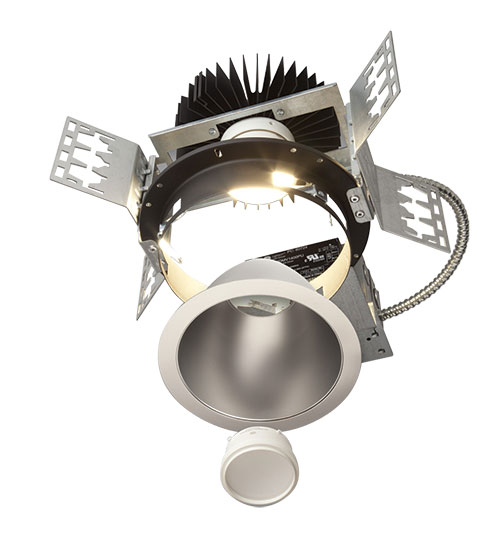 Lumination DI Series LED Luminaires by GE Lighting The Lumination DI downlights feature a modular GE Infusion LED light engine, based on a Zhaga Book, for easy serviceability and upgrade in the field. The design can deliver 3250 lm from 56W for an efficacy of 58 lm/W. GE offers the product with a broad range of specs enabled by the modular approach, and the cited model delivered a 2964K CCT with CRI of 90.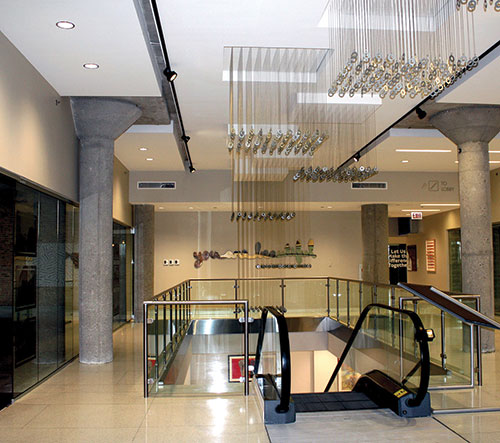 8-in. Recessed LED Downlight by Eaton's Cooper Lighting The 8-in. aperture enables flexibility in beam distribution while the optics reduce glare and hide the LED point sources. The design allows installation/service from below the ceiling with no tools required to replace the light engine. A 4000-lm model delivers 73-lm/W efficacy, consuming 55W at 3272K CCT and 95 CRI.   GRID CEILING LUMINAIRES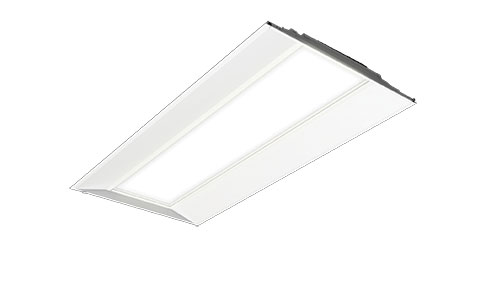 Flat Panel Retrofit Kit by Samjin LND Co., Ltd. Impressed by the glare control of this edge-lit ceiling troffer kit, the judges also responded positively to its appearance, color properties, and light distribution. With light output of 4263 lm generated at 46 W, the luminaire reaches 93 lm/W efficacy and supports 0-10V dimming.  
Nivo by Focal Point The 83-CRI Nivo relies on a frameless housing that can be concealed by the ceiling grid, its acrylic diffuser installed flush or dropped down. The luminaire reaches 85 lm/W efficacy with 3729-lm output at 44W.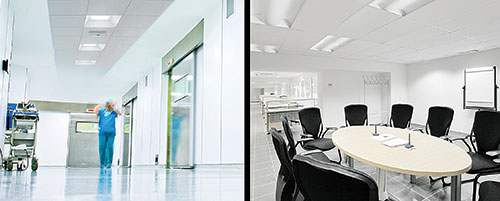 Indy X-Series Architectural LED Luminaires by Juno Lighting Group The attention to serviceability in the Indy X-Series Architectural LED luminaire design was a high point for the judges, along with the 3636-lm output and 35W for 105 lm/W efficacy. All Basket Series and Lay-in Series models deliver 3654K-CCT illumination with CRI of 84.   DECORATIVE & SPECIALTY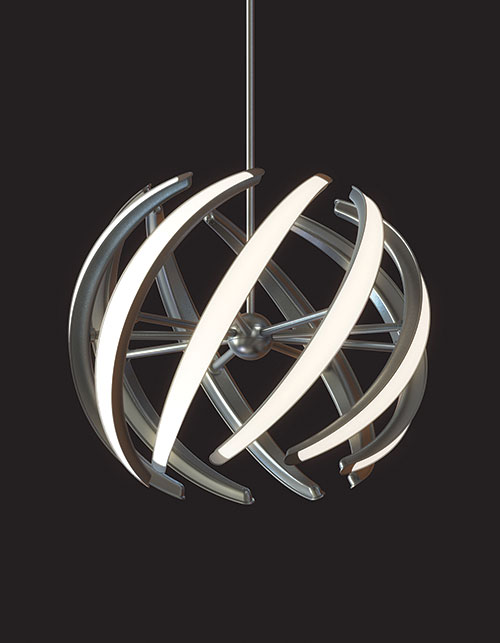 Swirl LED Pendant by Blackjack Lighting Run by a former lighting designer, Blackjack has delivered a number of unique SSL products including OLED-based luminaires, and Swirl fits the profile with LEDs seamlessly placed inside curved architectural structures – creating a unique look (see issue cover for an application photo). Judges praised the fresh look and interesting design along with good performance. At a CCT of 3102K and CRI of 83, the fixture delivers 3577 lm from 42W for an efficacy of 86 lm/W.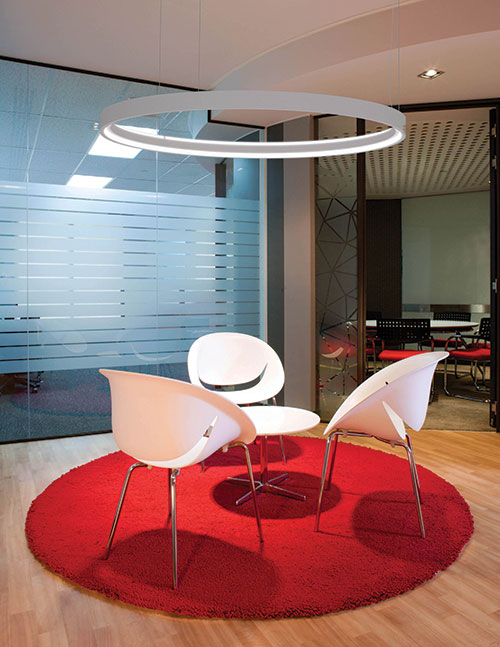 Cycle by Eureka Lighting Delivering diffuse direct and indirect light, the Cycle luminaire was praised by the judges for a unique design that also delivers good color rendering and light distribution. The product is available in different sizes over a range of CCTs. A 3204-CCT, 83-CRI model delivers 2687 lm from 64W for an efficacy of 42 lm/W.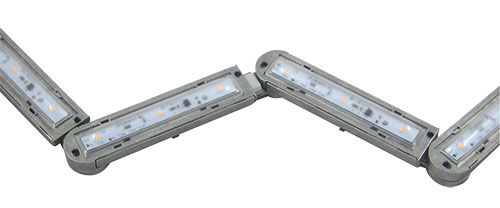 Matrix by Luminii Designed for backlighting applications such as display cases in high-end retail settings (as seen here), the Matrix product can be mounted directly on a surface even with double-sided tape. The judges noted good color and light output and the flexibility of the product to serve in many specialty applications. A 2957-CCT, 86-CRI model outputs 1385 lm from 28W for an efficacy of 50 lm/W.   Series 4000 by Tempo A configurable linear LED lighting system, individual elements of the Series 4000 can be mechanically articulated to fit nearly any space, and the judges noted the ability to install the system around corners and curves. A 6-in. element can deliver 330 lm from 5W for an efficacy of 69 lm/W at a CCT of 2200K and CRI of 83.   Vaya Cove LP by Philips Color Kinetics Offered in lengths ranging from 6-48 in., the Vaya product was praised for smooth dimming and excellent color rendering and light output. Philips offers the product over a range of 2700K to 5000K CCTs with custom options for red, green, blue, and amber LEDs. A 12-in., 3038K-CCT, 84-CRI model delivers 265 lm from 5W for an efficacy of 57 lm/W.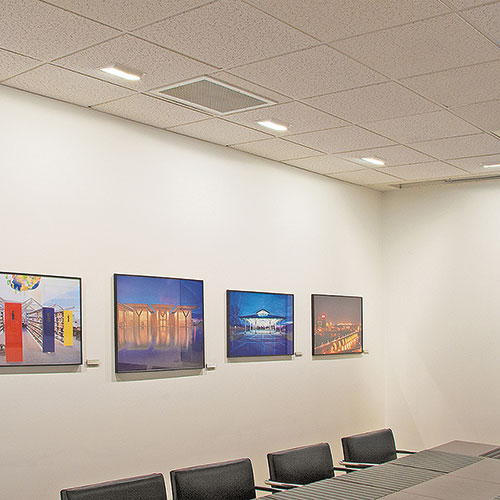 Elliptipar S222 Wall Washer by The Lighting Quotient The semi-recessed fixture is designed for ceiling mounting and wall-grazing applications based on what the company calls fraqtir optics that create a uniform plane of light. Judges praised the low-profile design and asymmetric light distribution. A 3069K-CCT, 86-CRI model delivers 729 lm from 16W for an efficacy of 45 lm/W.
Category:
LED Panel Buyers Guide
,
LED Panel Light News
| Tags:
led components
led high brightness light
led light panel fixtures
led recessed panel light
led solution
led technology

Other Items in this category