Presenting in the 2014 Taiwan International Lighting Show, U-TEL TECHNOLOGY will display a full series of line-voltage Dimmable GU10 base LED MR-16 with the following key features: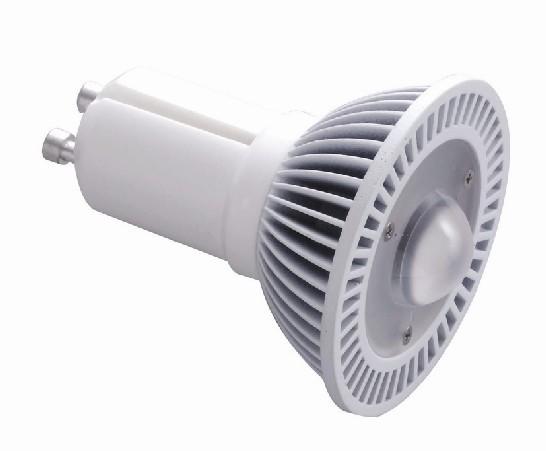 U-TEL Technology dimmable GU10 base LED MR-16. (LEDinside/U-Tel Technology)
??Built-in dimming circuit compatible with most traditional TRAIC Leading Edge dimmer controller.  Adjust the ambient light for different needs.
??No electrolytic capacitor for longer product life time.
??High wattage, high brightness in world's smallest size LED MR16 GU10.  Fits into most of traditional MR16 GU10 fixtures and directly replaces traditional 50W halogen bulb.
??Provides 80lm/w efficacy. Power factor reaches up to 0.9. Saving up to 80% on power consumption.
??Three different bases (GU10/ E27/ B22) that fit into most MR16 fixture with GU10/E27/B22 lamp holder.
??Using only CREE and NICHIA LED with color temperature range from 2400K~6500K.
??Options on 5W, 6W, 7W, 8W, 10W output and beam angles of 25°, 35°, 45°, 60°, 110° to meet any demand.
The multiple combinations in color temperature, beam angle and dimming feature is capable to meet any requirements in both commercial and private needs, changing the ambient light and atmosphere.
There is already a wide demand for this product in Australia, Thailand, Singapore, France, Spain, Germany, UK and forth.
Category:
LED Panel Buyers Guide
,
LED Panel Light News
| Tags:
1-10v
DALI
led bulb light
led components
led solution
oled panel
panel led

Other Items in this category