Samsung Electronics introduced a new line-up of LED modules called the M-series for use in flat LED lighting applications, such as troffers and linear luminaires. Samsung is showcasing the M-series at the LIGHTFAIR International trade show, being held here at the Las Vegas Convention Center tomorrow June 3rd through June 5th, 2014.
"The Samsung M-series offers tremendous convenience to LED lighting fixture makers with one of the most reliable and design-friendly feature-sets in the industry," said Bangwon Oh, senior vice president, strategic marketing team, LED Business, Samsung Electronics. "Through the new M-series and future Samsung LED solutions, we will increase our support for the LED marketplace by providing greater differentiated value and reducing the time to market for LED lighting makers, while accelerating market innovations for LED lighting components.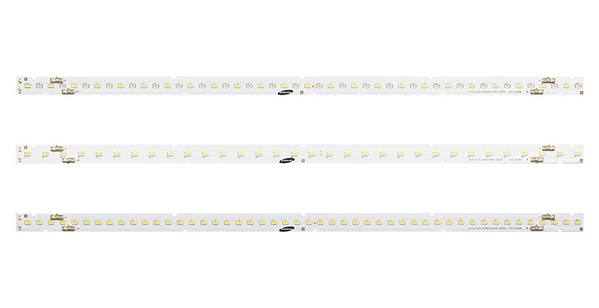 Underscoring their reliability, the M-series modules feature Samsung's LM561B LED package, which has successfully completed 6,000 hours of LM-80 testing.
The M-series includes three modules, the LT-M552A, M552B and M552C that have the same dimensions – 18x550x6 mm. By offering identical measurements and delivering a variety of light output options, the three modules simplify the task of designing LED luminaires.
In addition, the 18mm width of M-series readily replaces T5 light fixtures, which usually have a diameter of around 0.6 inches or 16mm. It results in more design flexibility when replacing conventional fluorescent tubes or LEDs in the same luminaire.
The Samsung M-series covers a lumen range from 1500lm to 2500lm based on a light efficacy level of up to 152 lm/W. By combining up to four M-series modules, a total light output of 2000lm to 7000lm can be achieved for luminaires. For example, if a luminaire requires 3500lm, combining two LT-M552B will provide approximately 4120lm, when assuming an optical efficiency level of 85 percent.
Samsung's new M-series will be commercially available later this month.
Category:
LED Panel Buyers Guide
,
LED Panel Light News
| Tags:
led
led components
led light panel fixtures
led lighting

Other Items in this category