Rishang LED, the leading manufacturer of LED lighting modules and components in the world and renowned lighting brand, will be launching its wide range of products for the Malaysian market. Marketed through Rishang Malaysia, there will be all types of products that can be used in the commercial lighting sector of the local market segment that will cover commercial and private properties respectively.
Rishang Malaysia is the sole and exclusive distributor for Rishang LED products in Malaysia where the company will be involved in all areas of distribution, marketing, sales and support for the complete product line. This is a significant milestone for Rishang Malaysia which will see the rolling out of all types of commercial lighting modules, LED power supply, components and LED bulbs that are suitable for use in all spaces.
LED or Light-Emitting Diode lights have been one of the fastest growing technologies in the world especially through its known benefits which offer better cost savings in utility bills like electricity. Apart from that, LED lights can operate for a longer time up to 7 times more than conventional lighting. By emitting lesser heat, LED lights help the premise owners to depend less on cooling units like air-conditioning systems which will in the long-run provide more savings and making them the ideal replacement for conventional light bulbs.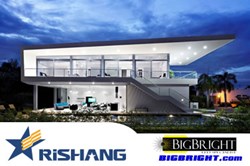 To launch the campaign, Rishang Malaysia will be bringing in popular modules like LED modules and LED strips for lightboxes and signages in Malaysia. In offering affordable options in this area, business owners who are using lightboxes and signages in their premises have a more economical and beneficial option. Rishang LEDs have been used in many businesses to replace fluorescent bulbs for signage purposes. The brand is currently being used by large corporations and organisations like AIA and the Pavilion Shopping Center in Kuala Lumpur. Apart from that, Rishang LED products are used in retail and convenience stores like 7-Eleven and many others.
Rishang Malaysia will be offering a wide range of LED bulbs in Malaysia which can be used in all types of environments. This product is highly energy-efficient and cost-effective which can be used for lighting, illumination, decoration and any other purposes required. The LED bulbs can be used for spotlights, wall-washers and in display cabinets as well as for customized purposes like garden and outdoor lighting in which the bulbs can be mounted into waterproof enclosures to withstand any type of extreme weather conditions.
Another popular product that business owners can consider through the launch is to replace the current fluorescent lights with Rishang Malaysia's T5 and T8 LED tubes. These tubes are among the most commonly used and installed in many spaces where the dimension and length are identical. With minor adjustments, business operators can now enjoy up to 50% in electricity savings per month which would be highly advantageous in the long term.
Customers of Rishang Malaysia will enjoy technical support and customer service in terms of installation and on design. Pricing of the products are very competitive and based on the current market rate where bulk purchases will enjoy additional discounts. All Rishang LED products come with 5-years warranty with 1-to-1 exchange against manufacturer's defects with no questions asked.
As part of this launch, Rishang Malaysia is inviting LED distributors from all regions around Malaysia to apply for exclusive distribution privileges. Entry into this market requires very low capital where Rishang Malaysia will be offering support in all areas. This includes providing the appointed distributor with a website for better online presence and e-commerce facilities for ordering of stock and other services. From there, Rishang Malaysia will facilitate all orders and make arrangements like logistics, delivery and technical support. Meanwhile, Rishang Malaysia will be responsible in the support of the distributor's network through a well-planned and run advertising and promotions campaign throughout the year to ensure business growth for the partners.
On top of that, Rishang Malaysia is partnering with the Malaysian Advertisers' Association through a collaborative programme which will be venturing into a major campaign to improve the Association's services to its members. Rishang Malaysia will work with all parties involved to assist the Association in becoming more relevant and to play a more integral role for the enhancement and strengthening of the Malaysian advertising industry.
Category:
LED Panel Buyers Guide
,
LED Panel Light News
| Tags:
led
led components
led high brightness light
led lamp
led light
led lighting

Other Items in this category