Rigid Industries LED Lighting® announced Thursday they hit an all-time record on the D-Series (Dually and D2 led lights) production line. With Rigid Industries' new manufacturing facility in Gilbert, Arizona, and the increase in demand for the brightest most compact LED light on the market, they pushed it to the limit and beat the old record set a few months back. (Please click here for video.)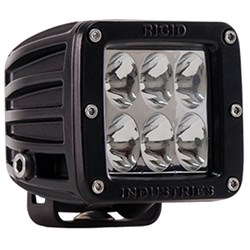 Rigid Industries introduced over 100 new products last month which raised the bar again for the LED lighting industry. This tasking event put pressure on the production lines, but the dedication of the Rigid Employees is not to be underestimated. The old record on the production line for the versatile 3" by 3" Dually and D2 led lights was previously 1,702 in a day, which was a new record set only four short weeks ago. It was just broken with an 8 person production line, in an 8 hour shift, of an incredible 2025 D-Series produced! Watch the action on the production line and see for yourself here.
According to Rigid Industries CEO Jason Christiansen, "Our distributors and dealers demanded their top selling Rigid led lights be ready for the holiday season, and Rigid does not want its customers to wait, let alone during the holiday season."
The birth of the new patent pending Hyperspot™ optic system found in most "2" families of lights, was described by many as "literally, turning night into day". This new optic delivers an intense 5 degree beam of light. The revolutionary aperture system blocks unused light for a "clean beam". The Hyperspot is guaranteed to have the highest intensity per watt or square inch with the Peak Beam Intensity of 1,018,000, making it the furthest projecting LED light on the market. The Hyperspot is best used in combination with another optic to achieve the greatest distance and spread.
These new LED light lines and their amped up legacy lines guarantee to be great LED lights for a very long time, arguably making them the most "future-proof" LED lights ever made by Rigid. Balancing innovation with refinement and delivering Excellence In Innovation is what makes a company sustainable.
Category:
LED Industry News
,
LED Panel Light News
| Tags:
led
led components
led light panel fixtures
LED products
led solution

Other Items in this category