Recom Lighting is launching two new high-power, dimmable, constant current LED driver series for applications that require a high output voltage to drive long LED strings.
The RACD100A series offers constant output currents of 1400mA or 700mA at voltages from 50V up to 142V. The RACD150A offers constant output currents of 1400mA, 1050mA or 700mA, but with voltages from 60V up to 210V. Both LED driver series support dimming via PWM or 1-10V signals and are fully IP67 sealed for outdoor as well as indoor applications.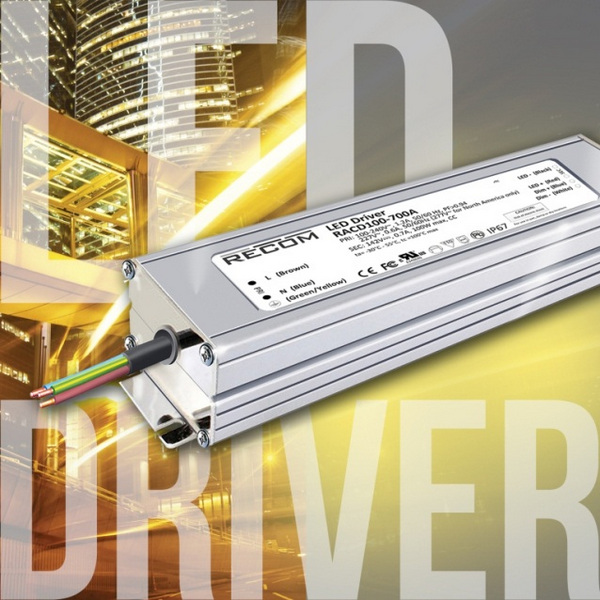 With their wide input voltage range of 90 to 305VAC, the new drivers can be used worldwide on 115Vac, 230Vac and 277Vac supplies. The converters operate with full load efficiencies of more than 93%, feature low THD (15%) and active PFC with power factors exceeding 0.98 and are fully protected against short circuit, overload and over temperature conditions.
Steve Roberts, Technical Director, RECOM says: "The RACD100A and RACD150A series combine the market demands for high voltage outputs, dimming functions and compact sizes to target applications like high bay lights and street lighting. Due to our co-operation with NXP, both series are "Green Chip" recognized for high efficiency, low THD and high power factor."
Applications include high power area lighting as well as car parks, warehouse or security lighting. The LED drivers are UL8750 and EN61347 certified, comply with FCC and European EMC standards and come with a full 5 year warranty.
The LED driver is available at our authorized distributors.
Category:
LED Industry News
,
LED Panel Light News
| Tags:
led
led components
led high brightness light
led light panel fixtures

Other Items in this category