Looking for the easiest way to upgrade to LED from fluorescent? Here is why the Philips Instant Fit T8 LED lamps are the ideal solution.
InstantFit LED T8 lamps are a simple way to instantly make your current application more efficient. These energy-saving solutions fit into existing linear fluorescent fixtures and provide appropriate light levels by utilizing existing fluorescent ballast.
LEDs are mercury-free and are ideal in cooler temperatures, making the PHILIPS INSTANTFIT LED T8 LAMPS a perfect solution for refrigerated cases, multi-deck coolers, walk-in coolers, parking garages or other applications where low-temperatures are commonplace.
Plug and Play
The Philips InstantFit LED T8 is a true Linear LED retrofit that replaces existing 4' T8 fluorescent lamps. No wiring is required when replacing T8 fluorescents with the InstantFit lamp, which helps to reduce maintenance and labor costs. This lighting solution is ideal for users focused on maximizing the value of an existing ballast investment.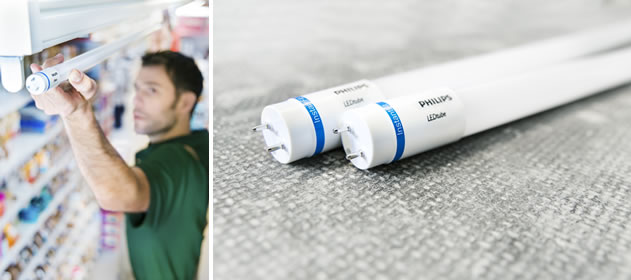 Energy Savings
InstantFit's low energy consumption allows for short payback and long life and provides significant energy savings depending on your unique system configuration.
Compatibility
InstantFit lamps have been tested with a variety of ballasts to ensure compatibility with the majority of Instant Start ballasts.
Sustainability
Philips InstantFit LED T8 lamps contain no mercury, and virtually no UV or IR light. Waste is minimized since these lamps are installed in existing luminaires.
Category:
LED Panel Buyers Guide
,
LED Panel Light News
| Tags:
led
led high brightness light
LED products
led solution
led technology

Other Items in this category