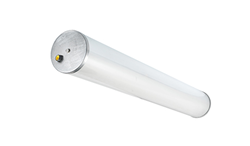 Targeted primarily toward food service and food preparation applications, the SNL LED Sanitube Food Service Strip is tested to the National Sanitation Foundation (NSF) standards for use in splash zones. The fixture also meets IP65, IP66 and IP67 standards for high-pressure washdown and temporary immersion.
The new fixture combines these certifications with levels of efficacy and longevity associated with solid state lighting. The SNL is available in configurations producing up to 100 lumens per watt and rated to 80% lumen maintenance at 60,000 hours.
The SNL is also a very versatile fixture that can be ceiling-mounted, wall-mounted or suspended, depending on the specific needs of an application.
"We developed this fixture primarily with food preparation applications in mind," said Joe Martin, [P2]'s vice president and general manager. "But it's proven to be so versatile that I won't be surprised to see it fill many wet-location roles."
Those likely roles include use in industrial areas, outdoor awnings, cold storage rooms, clean rooms, car washes and even breweries.
Both business owners and lighting professionals will find plenty to get excited about in [P2]'s latest LED fixture. Backed by a five-year warranty, every SNL wet-location LED strip light is assembled by American workers at [P2]'s manufacturing facilities in Yorba Linda, Calif. or Hudson, Wis. The fixtures are built from a rugged one-piece acrylic housing with stainless-steel end caps, and an internal optical diffuser delivers controlled, soft, uniform light distribution without pixilation.
SNL LED Sanitube Food Service Strip fixtures can be ordered in a range of configurations delivering light outputs from around 3,000 lumens to over 17,000 lumens per fixture. The fixtures are also available with custom options like built-in battery backups, surge protectors and a range of watertight cords.
Category:
LED Industry News
,
LED Panel Light News
| Tags:
led components
led light panel fixtures
LED products
led recessed panel light

Other Items in this category