MKS Advanced Recessed LED Lighting Downlight Featured on Architectural Lighting

Home » LED Industry News » LED Panel Light News » MKS Advanced Recessed LED Lighting Downlight Featured on Architectural Lighting
The MKS product line was developed as a high-end architectural and residential recessed LED downlight collection. It includes models for new construction sites. Architects can include these in to their specifications for recessed led lighting in new homes and buildings. Remodel designs are included in the line as well and can be installed when renovating a space.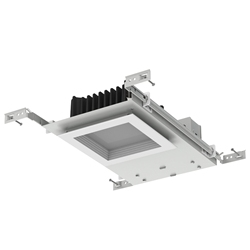 All MKS recessed downlights incorporate some of the newest technologies in recessed LED lighting. According to the Department of Energy, "The light-emitting diode (LED) is one of today's most energy-efficient and rapidly-developing lighting technologies. Quality LED lights last longer, are more durable, and offer comparable or better light quality than other types of lighting. Residential LEDs — especially ENERGY STAR rated products — use at least 75% less energy, and last 25 times longer, than incandescent lighting."
The MKS Advanced Series stands out for its high quality, rugged craftsmanship and superior performance. An Energy Star rated family of LED downlights, it features our glare free technology allowing for the minimization of blinding light without having to sacrifice high lumen output. The MKS LED downlight is IC rated in both new construction and remodel applications. It is fully dimmable and carries the C.E.T.L. certification. The downlight is virtually maintenance free. Built in LED chips that produce light for 50,000 hours ensure that you no longer need to replace bulbs. All MKS Advanced LED downlights offer a 5 year warranty.
Category:
LED Industry News
,
LED Panel Light News
| Tags:
led
led components
led high brightness light
led lamp
led light panel fixtures
outdoor lighting

Other Items in this category