Designed with precision MicroCell™ louvers and architectural styling, MaxLite's Micro-T™ Lay-In LED Panel offers the simplicity of a lay-in panel with excellent efficiency and a premium appearance for demanding interior designs.
The new Micro-T panel is designed for challenging architectural and specification applications such as banks, corporate campuses, academic institutions and health care facilities.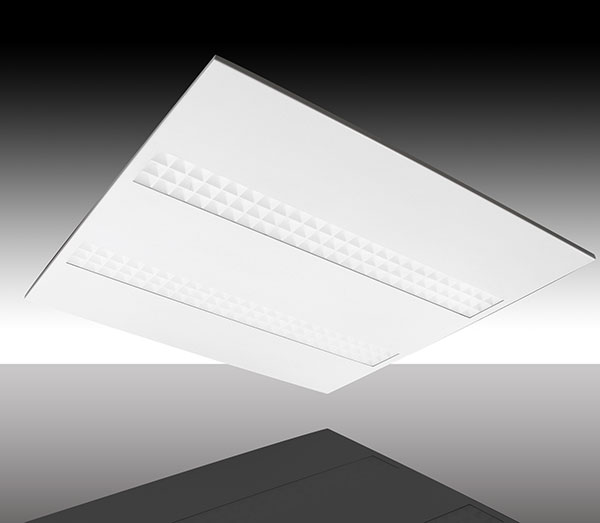 "Our new Micro-T panel has a striking architectural appearance that offers a fresh alternative to other LED and fluorescent recessed troffers," said Product Marketing Manager Ken Charton. "Additionally, its dual-function precision optics cut glare and boost efficiency, making the Micro-T fixture the premium architectural LED lighting alternative."
The Micro-T consumes less energy and offers higher candle power levels than traditional direct lit or edge lit flat panels. The 100-degree beam distribution is standard. All models exceed 90 lumens per watt efficacy with 5000K versions exceeding 100 lumens per watt.
The damp-listed fixture is constructed with sheet steel housing, a separate LED driver enclosure and an impact-resistant polycarbonate lens that protects the fixture from impact.
The Micro-T is available in 1'x4', 2'x2' and 2'x4' configurations, each with multiple colors and lumen packages. Rear knockouts enable ease of installation.
Micro-T joins MaxLite's award-winning lay-in panel line-up, including ECO-TTM LED Recessed Troffers and LED Flat Panels in Direct Lit and Edge Lit Styles
Category:
LED Panel Buyers Guide
,
LED Panel Light News
| Tags:
led bulb light
led high brightness light
led light
led light panel fixtures

Other Items in this category