Lutron Introduces Mobile Connectivity Solution for Wireless Dimmers and Battery-Powered Shades

Home » LED Industry News » LED Panel Light News » Lutron Introduces Mobile Connectivity Solution for Wireless Dimmers and Battery-Powered Shades
Giving clients the ability to adjust their lights and window shades from a smart phone has never been easier, more reliable, or affordable. Lutron Electronics, maker of energy-saving wireless light and shade controls, today announced the Lutron Smart Bridge Pro – a wireless bridge that connects Lutron's Caseta® Wireless dimmers, Pico® remote controls, Serena™ remote-controlled shades, and third-party devices to a new Lutron app, providing convenient home control from iOS and Android-based smart phones.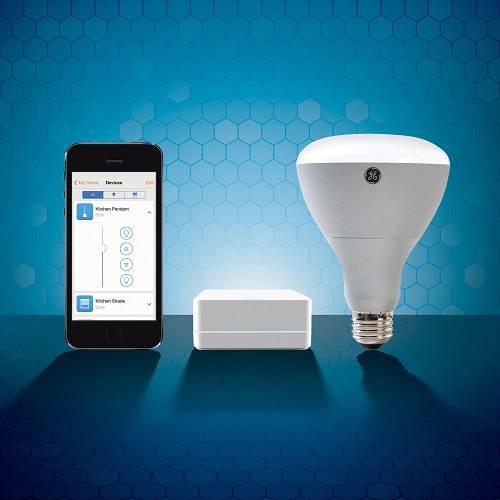 The professionally-installed Lutron Smart Bridge Pro, embedded with Lutron's powerful Clear Connect® Wireless technology, plugs directly into a home's Wi-Fi router and sends wireless, radio frequency (RF) communication signals to Caseta Wireless dimmers and Serena shades. The Lutron Smart Bridge Pro is easily paired with the new Lutron app with the press of a button, allowing dealers to install and setup a system in less than 30 minutes. Simply connect the bridge to the Wi-Fi router, install Caseta Wireless dimmers and Serena shades in key areas of the home, and pair these products with the Lutron app for intuitive, smart phone control.
The Lutron Smart Bridge Pro lets dealers offer lighting and shade control from anywhere inside or outside the home, enhancing home security and personal safety, and providing home automation at an affordable cost. The app can be used to dim lights just before the start of a movie, to turn lights on from the car when arriving home, to close shades from the office, or close shades and turn off lights from the airport – all from a smart phone.
"This new, affordably-priced solution gives dealers the ability to offer simple and reliable energy-saving products to clients who are new to lighting and shade control," said Michael Smith, Vice-President of Lutron's Residential Business. "This solution features the same Lutron quality the industry has come to know and trust and will help dealers think differently about their business models, as they can now give their clients a connected home solution in three easy steps."
Lutron Smart Bridge Pro compatible products offer a robust home control solution
1. Caseta Wireless in-wall dimmers provide control of overhead lights and work with the newest energy-saving bulbs, including dimmable LEDs, dimmable CFLs, halogens, magnetic low-voltage loads, and incandescents. Dimmers do not require a neutral wire, allowing them to easily replace an existing light switch.
2. Caseta Wireless lamp dimmers plug into a standard wall receptacle and provide control of table and floor lamps that use the newest energy-saving bulbs, including dimmable LEDs, dimmable CFLs, halogens, magnetic low-voltage loads, and incandescents. For added convenience, the Caseta Wireless lamp dimmer features two lamp receptacles, allowing two lamps to be controlled simultaneously.
3. The Pico battery-powered remote control features a 10-year battery life, works with Caseta Wireless dimmers and Serena shades. The Pico remote can be used as a hand-held remote, affixed to the wall or to a car visor, or placed on a tabletop pedestal.
4. Serena battery-powered, remote control shades add privacy and offer convenient control of windows up to 10' tall in both honeycomb and roller shade styles (8' x 8' for honeycombs, 8' x 10' for rollers). Shades are powered by standard, D-size batteries and offer a three-year battery life (based on two "ups" and two "downs" per day).
5. The Lutron app (available early summer) provides simple set-up and intuitive control of all connected devices and is used to create and schedule timeclock events and basic scenes from anywhere.
6. The telligent™ LED bulb by GE® is embedded with Lutron's Clear Connect Wireless technology and controlled by a Pico wireless remote. The bulb will be available late 2014.
7. Integration with select third-party A/V controls like Control4®, Universal Remote Control® (URC) and Remote Technologies Incorporated (RTI) products, provides an integrated home control solution.
8. The Lutron Smart Bridge Pro works with select security systems. The Alarm.com smart phone app, for example, provides control of Caseta Wireless dimmers and Serena shades both from the Alarm.com app and as part of a security event. If the alarm is tripped, Serena shades will rise and lights will turn on, drawing attention to the situation. The Smart Bridge Pro is also compatible with select security systems from ELK and others.
Category:
LED Industry News
,
LED Panel Light News
| Tags:
led components
led high brightness light
led lamp
led recessed panel light
led solution
led technology
round led panel

Other Items in this category