"We invite you to embark on this adventure with us. Discover the beautiful light artworks that can now be found throughout the city, and that we hope will trigger your imagination. The Illuminade walking route completes Amsterdam Light Festival, and the combination of light art in the city center is sure to create a unique experience for all." – Rogier van der Heide, Artistic Director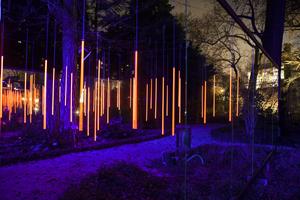 Illuminade – starts December 12th
The second part of Amsterdam Light Festival, the Illuminade walking route, starts today. This unique selection of 15 artworks in the public space is free to visit daily from 17:00 – 22:00 until 5 January 2014. The route departs from the Muziektheater with Drawn in Light by Ralf Westerhof (1977, the Netherlands) and Winter March in Smokey Areas by Roos van Haaften (1983, the Netherlands) and takes visitors through the Plantagebuurt.
Water Colors – finally complete
Despite the winter storm, the opening of the Water Colors boat route continued as planned on Friday 6 December. Our technical team has worked hard the past week and the three artworks that could not be completed in time due to the storm, the Fly's Eye Dome, Temporal Tower and Digital Origami Tigers, can now be admired in all their splendor. The Water Colors boat route (until 19 January 2014, 17:00 – 23:00) starts at Amsterdam Central Station and passes 17 artworks by (inter)national light artists, both renowned and emerging. .
Crowdfunding Projects
Two crowdfunding projects of Amsterdam Light Festival can be supported on the Dutch crowdfunding website, Voordekunst. In We Light Amsterdam, more than 1,000 lights have been collected by Stichting Nieuwe Helden (Foundation New Heroes) and contributed by the city's residents. Artists Machteld Aardse and Femke Kempkes project letters written by Jewish men, women, and children during World War II on the facade of the Hollandsche Schouwburg in Vaarwel/Last Words.
An Epic Battle of Light
During Amsterdam Light Festival, an interactive installation by VENIVIDIMULTIPLEX, Lightbattle, illuminates the passage of the Rijksmuseum. Participants are challenged to take a seat on one of the bicycles placed on either side of the passage. When cycling, participants boost an arch of light across to the other side. A battle of light like this has never been seen before. Visitors to the festival can participate in the Littlebattle daily from 17:00 – 22:00 until 19 January 2014.
Category:
LED Industry News
,
LED Panel Light News
| Tags:
led
led components
led high brightness light
led lamp
led light
led lighting

Other Items in this category