LG Chem announces to strategically drop the price of OLED light panels from third quarter of 2014. The market price was set at $600/Klm or above, depending on order quantities. Today, LG Chem suggests a new price of $200/Klm.
"As a pioneer of OLED light panels, LG Chem decided to propose attractive prices to selective partners who are willing to stimulate the market with mass-production of OLED luminaires," said Sung-Soo Park, Vice President and OLED Light Division Leader. The new price will be discussed with the customers starting from Lightfair international 2014.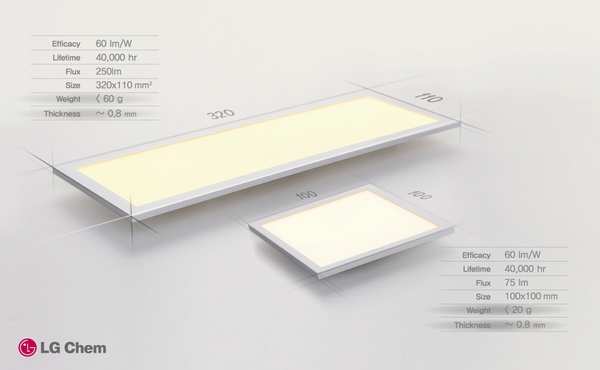 The price drop is possible with alteration of the glass substrate and encapsulation material of the OLED light panels. As a result, the panels will be even thinner and lighter than the current models without compromising any performances. The upgrade will first start with popular 100x100mm and 320x110mm panels. Then, it will gradually apply to all.        
LG Chem will highlight readiness of OLED light panels at LFI 2014
From June 3rd to 5th, LG Chem will exhibit at Lightfair International 2014. Different types of OLED light panels will be showcased with luminaire examples in Las Vegas convention center at booth #1525.  
Since the OLED sector first came into existence, LG Chem has been successful in meeting its development roadmap. Now, the performance of LG Chem OLEDs has already reached the point where the OLEDs can be used in real-life application right away.
LG Chem offers OLEDs in a variety of shapes and sizes. Eight different models are available with three different color temperatures (3000K/3500K/4000K), which deliver high color rendering levels (CRI>90) as well as achieving 40,000 hours of lifetime at 3,000 cd/m2.
Category:
LED Panel Buyers Guide
,
LED Panel Light News
| Tags:
led bulb light
led high brightness light
led light panel fixtures
LED products
led solution
oled panel
outdoor lighting

Other Items in this category