LG Chem and Ab Rogers Design have collaborated on a project to apply OLED light to an architectural installation, the OLED Tree Bar. The design was installed at May Design Series furnishing fair which was held May 18–20 this year. Along with LG Chem, Ab Rogers has been seeking to create applications only possible with OLEDs. The result of the endeavor was blooming petals of thin OLED light panels that illuminated the bar area built for the exhibition. LG Chem`s circular type OLED light panels (N6OA30) were used for the project.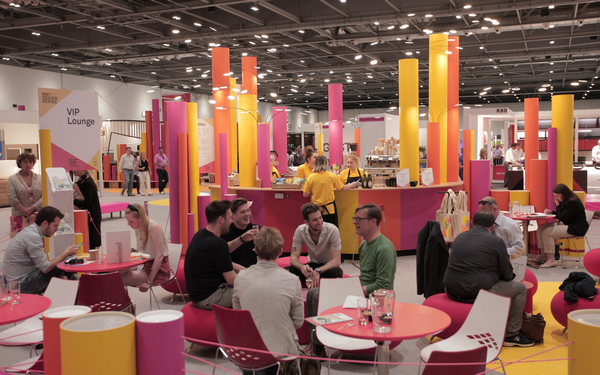 The Message behind the OLEDs
OLED Tree Bar displayed various key characteristics of OLED light panels: thinness (< 1.0mm), lightness (the panels sit floating on the end of piano wires), luminance (standing out even under a considerable amount of ambient light, some hanging from as high as 4 meters), and light quality which was lauded as "needing to be experienced in person" by visitors. Professionals noted on the simplicity of its integration: the panels were attached to the piano wire rods by standard adhesive tapes, the cables were connected to a power driver, then the driver was plugged in. "That was all there was to it," said Minsang Cho, a lighting designer and long time collaborator of Ab Rogers. He added that "OLED considerably enhances the design freedom to integrate light into any design, and the OLED Tree Bar is a prime example of that."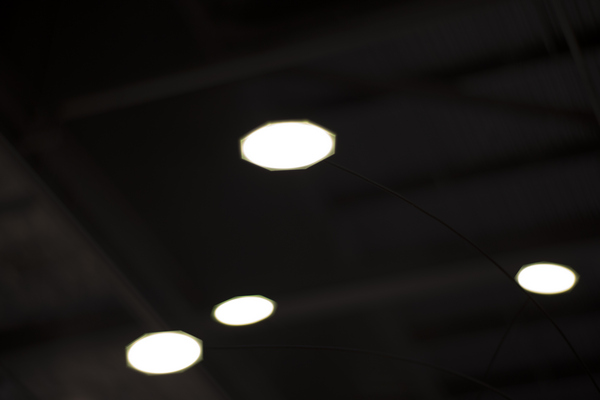 The Show
May Design Series is London's biggest international furnishing trade show. The exhibition involves furniture, décor, kitchens, bathrooms, and lighting. Andrew Vaughan, brand director of United Business Media, stated that he had been aspiring to push the exhibition industry forward when he organized the May Design Series in 2011, and it prompted him to search for a designer. Andrew Vaughan refers to Ab Rogers' "ability to effectively integrate both aesthetic and practical factors into his designs" as what eventually led to the collaboration between May Design Series and Ab Rogers Design.
The Design
Building upon their previous successful collaborations, Ab Rogers was instated once again to design this year's May Design Series. Ab Rogers notes on the integration of OLEDs as the key differentiation factor for this year's design. The bar design was based on the notion of sustainability, especially considering that the installations were to be torn down after the exhibition. The basic structure was comprised of recyclable cardboard tubes and given life through Ab Rogers' trademark colours. In order to give the bar area its magical touch, Ab Rogers chose OLEDs.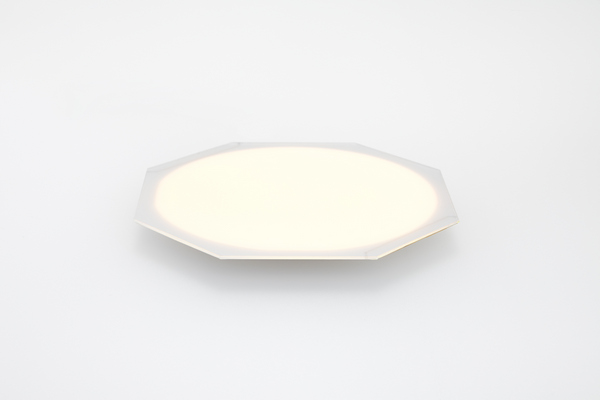 The Next Stage
The OLEDs are to be reused, and will be given a "permanent resting place" in Dove Row where Ab Rogers Design is building its new office. "It feels like natural light. We liked them too much to let them go," Ab Rogers said.
LG Chem is constantly looking for designers, architects, and artists who are willing to collaborate on designs that can effectively showcase the benefits of OLEDs. Ab Rogers also encourages potential collaborators to "play with" OLEDs, while he himself looks forward to further collaborations with LG Chem.
 
Category:
LED Panel Buyers Guide
,
LED Panel Light News
| Tags:
led bulb light
led components
led high brightness light
led light
led light panel fixtures
LED products
led recessed panel light

Other Items in this category