Lexus presented the "STROBE" project – an LED spectacle in which acrobats and stuntmen suspended across Kuala Lumpur's night skyline were lit up in succession to create the illusion of acrobatic motion at impressive speed.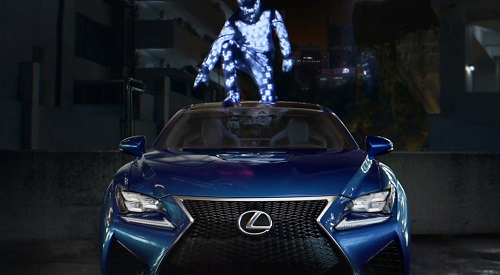 Poised across the rooftops of some of the city's tallest buildings, the 'Lightmen' were dressed in custom-made LED lightsuits that were linked to a purpose-built computer system that controlled each individual LEDs' strobes one by one, tracing a breathtaking display of illuminated figures flying over the city.
Created by CHI & Partners London and directed by Adam Berg of Stink Productions, the campaign will run globally across TV, cinema, print, outdoor, digital and social media.
The spectacle required a team of 40 expert engineers to erect and control large-scale rigging from which the 'Lightmen' were suspended.
The LED suits, which took six weeks to build, were conceived by Hollywood costumer designer Vin Burnham and world-renowned technical director Adam Wright – taking design cues from Lexus vehicles, including the iconic spindle grille and the all-new Lexus RC F LED headlights. Each suit contained 1,680 LED lights, all wirelessly controlled to strobe on command using specialist software.
Mark Templin, Executive Vice President at Lexus International, said: "STROBE is the third entry in our 'Amazing in Motion' campaign. We created this global series of projects to showcase our imagination through innovative design and technology. It builds on the Lexus ambition to connect with the hearts, as well as the minds, of consumers."
Music was provided by Computer Magic, the electronic music solo-project of New York producer and DJ Danielle "Danz" Johnson, who is signed by Kitsuné. Lexus chose the track, 'Running', for the way it effortlessly complements the sequence of the Lightmen, accentuating the flow of movement, while the lyrics support the narrative of the Lightman running through the city at night.
Category:
LED Industry News
,
LED Panel Light News
| Tags:
led components
led high brightness light
led light
led recessed panel light

Other Items in this category