For Walking Dead series fans, Larson Electronics lists down ten products that can help boost your chances of survival in case of a zombie apocalypse.
1. Powerful Handheld Spotlight
The HL-85-HID is an extremely rugged and powerful spotlight designed to provide maximum output with high reliability making it the perfect tool to spot zombies before they see you in the distance. It has an adjustable light head that can be turned to produce a flood beam to see whats near, or a spot beam to see at a distance. With a beam reaching distances over 2,800 feet, hopefully you will have plenty of time to run! The HL-85-HID plugs into any abandoned car or truck you find.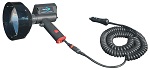 15 Million Candlepower Handheld Spotlight with a 35 Watt HID Bulb. (LEDinside/ Larson Electronics)
2. High Intensity LED Light Bar
You really need to see where you're going when walker herds rule the road! With our LEDP10W-240X2E high intensity LED light bar you will be able to see distances reaching over 1,600 feet long. Constructed of 24 ten watt LEDs, this light bar produces 20,640 lumen of bright, white light. It can run on any voltage ranging from 9-48 volts DC. Don't get caught in the dark without it.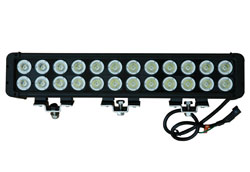 High Intensity LED Light Bar with twenty-four 10 Watt LEDs. (LEDinside/ Larson Electronics)
3. High Intensity Discharge Spotlight
The GL-3049H is a high intensity spotlight capable of reaching distances over 5,000 feet. It is operated with two wireless remotes that can be used in or out of the vehicle. With it's permanent mount capabilities, don't be concerned with it falling off at excessive speeds or bumpy conditions. It offers a 360° rotation so you can be aware of what's all around you. Put this light to use when it just isn't safe to step out of the vehicle. Don't get eaten alive!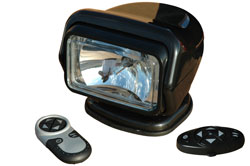 35 Watt HID Golight Stryker with 2 Wireless Remotes .(LEDinside/ Larson Electronics)
 4. 1500 Watt Security Light
Protect the prison with our WAL-TSL-1.5XM. This 1500 watt metal halide security spotlight produces 150,000 lumen of intense light. This light head is mounted to a three foot tall aluminum pole with a circular base that is predrilled with three holes for easy permanent mounting to any flat surface. Capable of illuminating objects 240 feet away, any good sharp shooter in the compound will be able to stop any herd from pushing over the fence.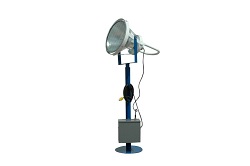 1500 Watt Metal Halide Tower Security Spotlight. (LEDinside/ Larson Electronics)
5. Intrinsically Safe Dual Lamp Headlamp
 To use a cross-bow like Daryl, you must have both hands free. This dual function headlamp operates off of three AA batteries and has an 18 hour run-time in spot mode. It has been drop tested from 2 meters so even if it falls off your head you should be able to pick it up and keep going.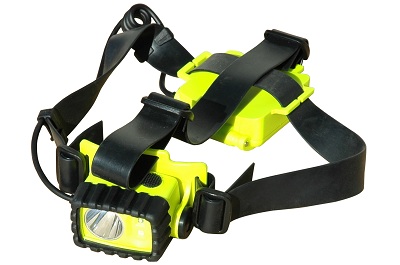 Intrinsically Safe LED Headlight with Five Modes. (LEDinside/ Larson Electronics)
6. Explosion Proof LED Flashlight
The EXP-LED-F4W is an intrinsically safe 4 watt LED flashlight that has a very tight, well focused pencil beam of light. The light beam on this LED flashlight reaches 100 feet in distance. With its great runtime on three AA batteries, you won't have to worry about it going dead while you are rummaging through a seemingly abandoned grocery store or checking abandoned houses.
To help our readers prepare for the coming zombie apocalypse, Larson Electronics is providing a coupon for this LED flashlight. Enter ZOMBIES2013 when checking out to recieve 10% off the purchase of an EXP-LED-F4W. There is no limit on how many you can purchase and we offer free shipping on orders over $100, so grab some up for family and friends and be prepared! 
Push button Explosion Proof LED Flashlight. (LEDinside/ Larson Electronics)
The SPLEDB-3 is a solar powered LED beacon that is visible up to one mile. A 3.6 watt LED strobe light is powered by an integral 14.3 volt, 6 amp hour lithium poly battery that is automatically recharged in the daylight. The 12 watt solar panel recharges the battery in 5 hours with direct sunlight and can power the beacon for 24 hours with a full charge. When all the power goes out, you can use this beacon to let other survivors know where the safe compound is located.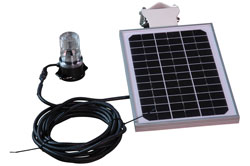 3 Watt Solar Powered LED Beacon.(LEDinside/ Larson Electronics) 8. Visible/Infared Combo LED Light Bar
The LEDLB-80X2E-VIR offers 120 watts of visible light and 140 watts of infrared light. This light can run off of any voltage ranging from 9 to 42 volts and provides an extremely rugged lighting solution. Use the visible LEDs for normal night time navigation and switch over to the infrared light when it's time to go zombie hunting. They won't even see you coming and they won't be attracted to the light.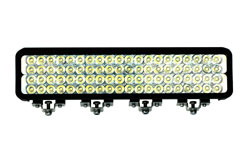 240 Watt LED Light Emitter. (LEDinside/ Larson Electronics)9. Emergency LED Light Fixture
Make sure to equip your prison home with our HALP-EMG-48-3L-LED emergency light fixtures. When the generators fail, these emergency battery backup lights will provide light for 90 minutes after the power is lost. This gives all current survivors over an hour and a half to take cover and exit the building without fear of meeting face to face with a zombie in the dark.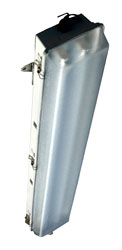 Hazardous Area LED Light Fixture.(LEDinside/ Larson Electronics)
10. Dimmable Remote Control Light Bulb
After the zombie apocolypse takes over the planet, we still need to lighten the mood from time to time. This color changing bulb will allow just that! Need to keep the lights dim? Using red, blue or dim white lights will not attract attention from the walkers. This bulb has 16 different color options with multiple modes including steady burn, flash, strobe, color fade and smooth fade. These options are selected by the touch of a button.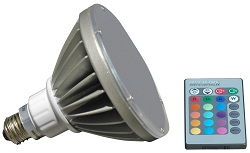 Remote Controlled Dimmable, Color Changing LED Bulb. (LEDinside/ Larson Electronics)
Category:
LED Panel Buyers Guide
,
LED Panel Light News
| Tags:
1-10v
led
led components
led high brightness light
LED products
led technology

Other Items in this category