Larson Electronics is making it easier than ever for companies or families who want to begin the transition to LED lighting with their 10 watt Directional LED light bulb. When replacing burned out bulbs to LEDs, or direct replacement, the new Magnalight LED-A19-10-E26 will save you time and money.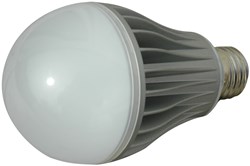 The Magnalight LED-A19-10W-E26 Directional 10 Watt LED A19 Style Bulb is designed to fit in standard light bulb sockets but provides durability and multi color adjustability that makes it ideal for industrial and commercial applications. This 10 watt LED provides 1050 lumens from only 10 watts.
The LED-A19-10-E26 is the ideal upgrade or replacement for directional hand lamps and drop lights. This bulb produces nearly 20% more light at 5 feet than a standard 100 watt rough service bulb. Combined with a "cool white" color output, this bulb is ideal for improving the light output of hand lamps, drop lights, and other standard incandescent lighting within industrial or residential applications. Operators will also benefit from the cool operation of portable lighting equipped with LED bulbs, and can stop burning themselves and others with incandescent versions of the same lights.
The base is the same screw in base that the standard light bulb will have in the US and Europe. You can use this LED light bulb in a standard lamp in your home and install it in seconds. However, given the durability and longevity, this LED light bulb is an ideal solution for industrial and commercial applications. As such, this LED light bulb can provide additional safety measures and time savings; given the low heat production and that it does not require replacing for 50,000 hours. Since the LED bulb uses solid state technology, the vibration that degrades conventional incandescent bulbs is not an issue with these LED bulbs.
"The Edison filament based incandescent light bulb was a horrible idea and now the world can be rid of it." Rob Bresnahan, with Larsonelectronics.com said, "The longevity and durability of this bulb, along with the significant reduction in costs to operate it, it will pay for itself again and again."
Larson Electronics carries an extensive line of LED spotlights, LED hunting lights, colored LED lights, portable work lights and industrial grade LED area lights.
Category:
LED Panel Buyers Guide
,
LED Panel Light News
| Tags:
led
led bulb light
led components
led high brightness light
led technology

Other Items in this category