The Lebanese American University is a leading, nonsectarian, private higher education institution in Lebanon. It operates under a charter from the Board of Regents of the University of the State of New York and is accredited by the New England Association of Schools and Colleges. The University has more than 8,100 students enrolled.
Through generous donations the University was able to refurbish their facilities in September 2013. The main focus was the Cafeteria, the social areas, the gym, the dancing hall and the offices.
LAU aimed for a modern architectural design maintaining elegant and straight lines. The solution supplied by Zumtobel was a perfect fit to the concept. SLOT LIGHT was used to provide a calm and diffuse light in a continuous line without dark spots that could disturb the students. Especially the gym, dancing and music hall needed a bright uniform lighting to avoid shadows and offer excellent visibility. The straightforward lines provide effective lighting and guidance in the hall ways.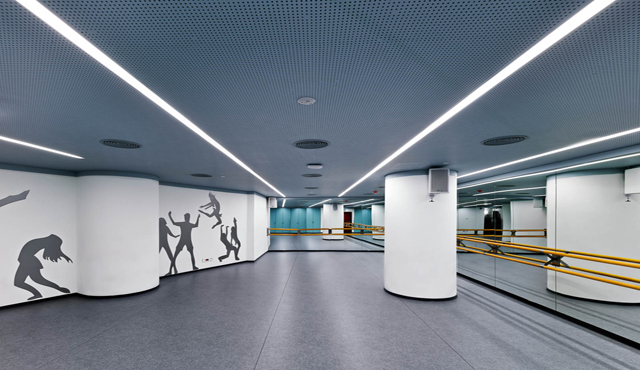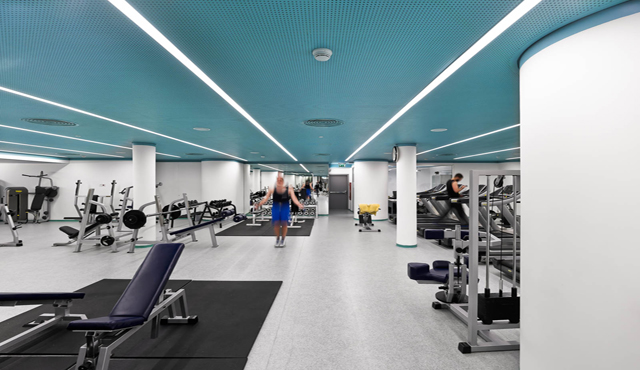 Above: LAU dancehall after the LED upgrade. Bottom: The university gym with its new LED look.
ONDARIA, mainly used in the social areas suits the modern setting of the University. A discreet indirect component for ceiling illumination underlines the luminaire's three-dimensional effect and adds a young vibrant design to the room. ECOOS completes the linear and contemporary design in the offices and offers a relaxed and pleasant lighting effect.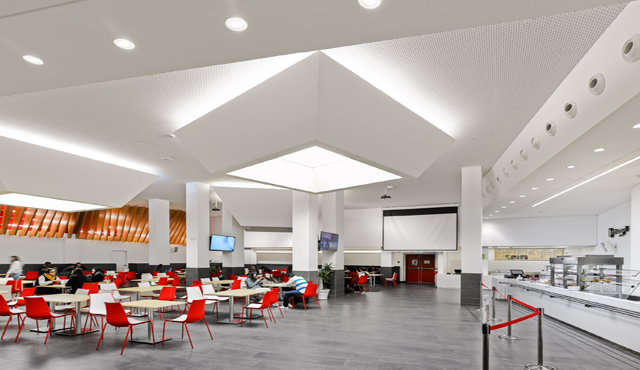 No daylight enters the spaciously designed cafeteria of the University, which is also the core get-together venue for the students between classes. The importance was to create the feeling of natural daylight streaming through the room to enhance wellbeing and energize the students. A tailor-made lighting solution of 3 skylights meets exactly those needs. Fluorescent lamps provide a balanced solution with warm and cold colour temperatures under a cove. The intelligent lighting control system adjusts intensity and color of light according to the actual day time. This solution allows setting as many different scenes as required and is able to simulate any time of day as well as seasons.
"One of the most challenging spaces we designed was the main cafeteria," said Cherine Saroufim Sacy, M. Interior Architecture, MFA. Lighting Design. "Always crowded and buzzing with students at all hours of the day, the design of the cafeteria was developed in a way to create three artificial skylights that mimic daylight in temperature and intensity to give a notion of time and weather to the occupants. The shape of the skylights as well as the wooden fins act as sound breakers. Zumtobel's input and expertise with regards to the skylights was crucial to the success of the project."
Category:
LED Panel Buyers Guide
,
LED Panel Light News
| Tags:
led bulb light
led components
led high brightness light
led light

Other Items in this category