Earlier in the month, id America launched a Kickstarter campaign for their LED light-equipped portable charger, named the L.E.D.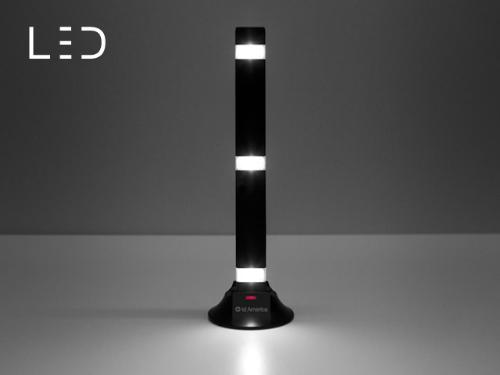 The L.E.D portable charger is a combination portable charger for personal electronic devices and adjustable LED lamp. Featuring a 5200mAh Lithium-ion battery, the L.E.D. is capable of charging a multitude of personal electronic devices to full capacity at their highest charging rate. The charger is equipped with 5V1A microUSB input in which it uses to charge itself, while personal electronic devices such as mobile phones, digital cameras, GPS devices and mp3 players can be plugged in and charged through a separate 5V2A USB output port. The 2A port enables the L.E.D to charge even full-size tablets such at the iPad at their maximum charging rate.
The charger features three separate LED bulbs, which can be used for a multitude of projects. Incorporating LED lamps significantly reduces the time it takes the portable charger to reach full charge capacity while increasing the usage time between charges.
The LED lights can last more than 100 hours on a single charge and can be used in a number of ways. Touch-sensitive control allows the user to effortlessly switch between three different brightness levels depending on the situation. Two charging docks are provided per charger, so users can keep one at home and one at the office to charge L.E.D when they need it most. The docks double as a stand that holds the L.E.D in both vertical and horizontal positions, enabling the charger to be used as tabletop lamp or reading light. The L.E.D is encased in an aircraft-grade aluminum casing, providing shock-resistant support while giving it a modern, utilitarian look.
Category:
LED Industry News
,
LED Panel Light News
| Tags:
led bulb light
led components
LED products
led recessed panel light

Other Items in this category