Journée Lighting, designer and manufacturer of LED lighting fixtures announces that it has received its 46th issued patent; Journée's intellectual property portfolio continues to rapidly expand with the introduction of their patented Snap-Lock? LED Driver Cartridge and Field-Replaceable Linear LED Modules.
Invented by Clayton Alexander, CEO of Journée Lighting and creator of the Lotus, the industry's first high-brightness LED track light, these new modules offer breakthrough solutions, enabling the creation of sustainable and serviceable LED light fixtures.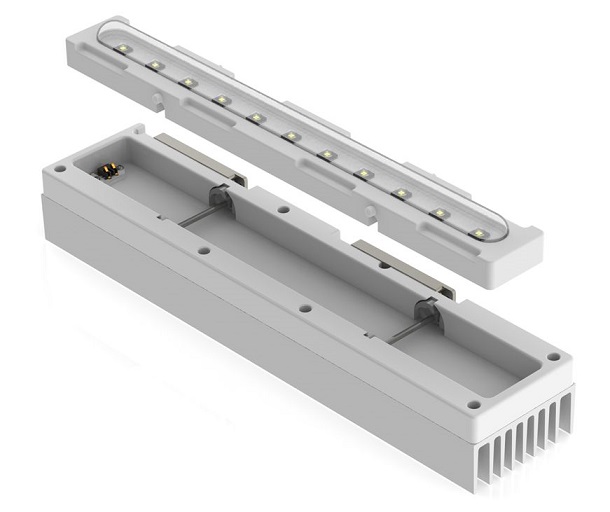 LEDs offer a number of advantages over incandescent, fluorescent, and high intensity discharge bulbs, however their installation makes it hard to replace the LEDs without extensive removal of the entire lighting unit. Journée's Linear LED Module can be easily detached from its heat sink with no tools, as well as provide for effective dissipation of the heat generated by the LED light module. With the linear LED module, the heat sink and socket are a permanent part of the fixture, and the linear LED module is quick and easy to install. It offers multiple beam angle options and is available in multiple lengths. This linear light bulb pops in and out of the socket and can be used for various high-brightness linear lighting applications. Designed to replace dual T5 HO lamp applications, Journée Lighting's new linear LED modules can deliver over 2,000 lumens per foot.
Journée's Snap-Lock? LED Driver Cartridge brings a different solution to the industry. "The Snap-Lock? LED Driver Cartridge could really change the way we service and upgrade recessed downlights in the field," said Jack Zukerman, CEO of LF Illumination and longtime lighting industry expert. "Current LED driver power supplies are bolted into the light fixture, but Journée has come up with an entirely new LED driver that snaps into a socket inside the light fixture, making it extremely simple to remove and replace as needed."
"Since forming the company in 2005, we at Journée Lighting have focused exclusively on developing LED lighting solutions for general illumination," says Clayton Alexander, president and CEO of Journée Lighting. "The key to our success is that we always try and think 10 years out when we create a new invention." As part of its rapidly expanding international patent portfolio, Journée Lighting has created an exciting new platform of modular LED light engines and power supplies which redefine how an LED light fixture is constructed. This new modular approach allows for quick-change serviceability and upgrades for LED light fixtures, creating a more sustainable alternative to traditional LED light fixtures.
Category:
LED Industry News
,
LED Panel Light News
| Tags:
led high brightness light
led lamp
led light
led light panel fixtures
led lighting
LED products
led technology

Other Items in this category