The audience is part of the show like never before, with Xylobands LED wristbands, lighting up individual audience members; live on command. The BILLBOARD LATIN MUSIC AWARDS, live from MIAMI, Florida, featured Xylobands lighting up the audience. The LED interactive bracelets have been lighting up people at shows for Shakira, Pitbull, Daddy Yankee, Linkin Park, and many more.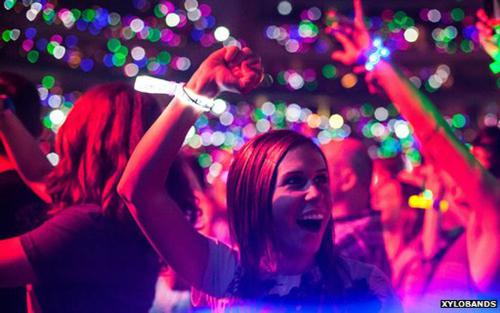 The future of live entertainment is energizing events now. LED wristbands, Xylobands, flash with live controlled wireless signals! Xylobands are synchronizing audiences with music, with big moments, and with each other. The group experience is intensely enhanced with the light effect, immersing guests into light shows created by the event, connecting people to the show in a way never experienced before.
TLC Creative, in Los Angeles, founded XyloBands USA to directly import XyloBands for use in concerts, events, and shows throughout North America. Already, over a hundred events; public and private, have featured the new technology and the results are in; YES! They motivate people like nothing else. As proven in entertainment shows, and now in corporate shows and meetings, tradeshows, conventions XyloBands bring a new level of motivation.
TLC is famous for laser entertainment, laser shows and laser effects for events and is often used in Hollywood films and television, such as the new film NEIGHBORS with Seth Rogan. TLC laser effects have been seen by millions in videos for USHER and JENNIFER LOPEZ, and many others. TLC Creative brought XyloBands LED bracelets to light up the audience at this years BILLBOARD LATIN MUSIC AWARDS, bringing interactive light energy to a performance by La Arrolladora Banda Limon.
Xylobands are the world's first live controlled wristbands, allowing the entire crowd to be lit up with pixels of light and motion. Stadium shows can display huge pixel effects created with XyloBands interactive LED technology. The ground-breaking effect was created for UK band Coldplay, who pioneered the XyloBands LED wristbands. Coldplay won awards for the new technology as it brought 4 million fans into contact with each other and their live show using the live controlled LED bracelets.
Audiences are transformed by the group experience when wearing the interactive light-up XyloBands, joining together as a group in an entirely new way. Concerts, celebrations, parties, meetings, are all reinvented using the new technology that literally puts everyone in sync. From full stadiums to small venues, the effect is powerful in each situation.
XYLOBANDS USA has created amazing moments with XyloBands for companies and sports and music celebrities; including the NBA halftime for DETROIT PISTONS, and school events for University of Arizona, Oklahoma State, and others. XyloBands toured with Coldplay, lighting up season openers for the MIAMI HEAT, and at the ELECTRIC DAISY CARNIVAL, and have become the standard to which other wristbands aspire.
Turning the audience into the show! Previously the audience was the 'dark' area during any show experience, now the lighting of the show includes the audience, each member of the audience! The era of wearable media kicks into high-gear with XyloBands bringing lighting to each person in the room.
SHAKIRA performed with an open park of New York City fans wearing XyloBands for T-MOBILE. TLC Creative brought the XyloBands to Bryant Park, the spot for the public concert and promotional event for T-Mobile announcing new services. The event was well promoted and overhead views saw the park lit up with XyloBands.
The wristbands can be specially programmed to flash or pulse or shine in different zones or areas of the event. Each section of an event can be controlled with unique colors and zones all controlled separately. The light area of the XyloBands wraps the entire wrist with light and extends an extra piece of light band off the wrist, so they are the brightest possible wristbands. They could light up entire venues with light.
The new Xylobands HTX controller brings simple programming and use with a customer operated ipad interface that allows any technician to operate all types of live show cues for Xylobands LED wristbands.
IN THE ZONE: Different areas or colors of the event can be controlled simultaneously, meaning events are able to chase patterns across venues and instigate audience waves and motivational energy.
XyloBands USA is bringing the amazing experience to life at events corporate events for Loreal, Samsung, BMW, Oriflame, Telemundo, Molson Canadian and more. Music performers Pitbull, Daddy Yankee, Katy Perry have been doing large scale private events, here, and in Mexico and Guatemala, that have featured XyloBands LED wristbands. A recent event with DELL computer company in Las Vegas included a stadium of DELL employees super-hyped to real excitement levels, getting motivated thanks to TLC's high-energy production expertise, including XyloBands and a huge light-up blimp, decorated with DELL logos, that flew all over the crowd and sent exciting video images as it hovered over the excited DELL employees. TLC Creative is well-known for amazing event ideas, and ways to bring event excitement to the next level.
Category:
LED Industry News
,
LED Panel Light News
| Tags:
led components
led high brightness light
led light

Other Items in this category