Hubbell Lighting announced its latest innovation to quickly and simply upgrade HID lighting—Sterner Lighting's Executive RT21 LED and Retrofit Power Door Upgrade Kit. The LED luminaire is bred from the popular Executive RT family that blends traditional rectangular styling with sophisticated engineering making it the perfect solution for area and site lighting in business parks and campuses.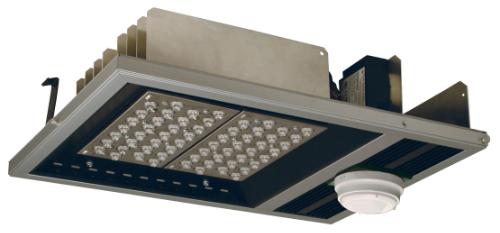 Available in both 30 and 60 LED configurations, the Executive RT21 operates in 70W or 140W systems delivering 3000K, 4200K, 5100K or Amber CCT light. Utilizing a 90-degree cutoff design, the Executive RT21 is versatile offering Type II, III, IV, VM, VS and VW distributions.
Using a front-push button—an Executive trademark—the fixture is fully accessible. Both the LEDs and driver tray assemblies mount directly to the extruded doorframe making servicing simple. Additionally, there is no need to shut down power to the circuit, as all power is terminated once the door opens. With fully sealed optics and optional anodized finish, the Executive R21 LED ensures great performance year round – even when exposed to corrosive and harsh climates.
Sterner Lighting has also introduced the Executive LED Power Door Upgrade Kit that provides easy, tool-less replacement of existing Executive HID RT21 luminaires (up to 250W) in 20 seconds or less! Installation video:
Both the Executive RT21 LED Luminaire and LED Retrofit Power Door Upgrade Kit are compatible with Hubbell Lighting's wiHUBB? wireless control technology. Both are also available with programmable motion sensors (WASP2).
Category:
LED Panel Buyers Guide
,
LED Panel Light News
| Tags:
led components
led high brightness light
led lamp
led light
led lighting

Other Items in this category