Hubbell Lighting, a world leader in lighting innovation, announced today an ultra-efficient choice for one-for-one replacements of outdated and inefficient metal halide and fluorescent high bays—Columbia Lighting's LLHV VersaBay® LED High Bay. With energy use 48% below comparable HID and a payback period of less than two years—now is the time for an LED retrofit.
Available in three lumen packages for a variety of mounting heights, the low profile LLHV uniformly illuminates warehouses, manufacturing facilities, gymnasiums, convention centers and other large, open commercial spaces. The LLHV provides the same consistent and quality light over a long life of 60,000 at L80 hours with a projected life of 100,000 hours, making maintenance and replacement costs almost disappear.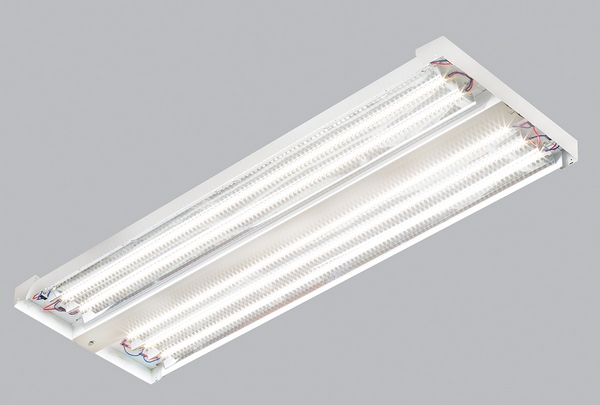 Unlike other LED high bays on the market, the LLHV is offered with the three most popular color temperatures for the locations in which it is installed: 3500K, 4000K or 5000K. Additionally, the LLHV is available in both narrow distributions for racks, and wide distributions for open areas. Installations are quick and simple with hanging system selections that include chain, tong, or aircraft cable mounting. A factory installed acrylic or polycarbonate clear or frosted lens and wire guard protects the fixture from being struck by objects.
With a CRI of 83+, the LLHV provides uniform color rendering that makes a real difference—signs are highlighted, labels are clearer, sports uniforms are brighter, and materials are easier to differentiate.
The LLHV's three lumen packages include: 12,000 lumens at 109W (110 LPW with configurations up to 119 LPW) for low mounts that range from 12'-20', 18,000 lumens at 155W (116 LPW) for medium heights of 15'-30', and 24,000 lumens at 236W (102 LPW) for high applications up to 40'. These high efficacies and astoundingly low energy requirements provide a typical ROI of 2 years or less when replacing 400W metal halides.
The LLHV is DLC qualified for utility rebates and Hubbell Lighting's innovative Cash Flow Positive program can provide funding opportunities for LLHV relighting projects. To learn more about financing options that keep dollars in your pocket.
Category:
LED Panel Buyers Guide
,
LED Panel Light News
| Tags:
1-10v
led
led high brightness light
led lamp
led light

Other Items in this category