Maintaining the finely tuned aesthetics in retail, office and hospitality spaces while reaping energy savings has never been easier than with the Lumination RS Series LED DownLight from GE Lighting. Offering specification-grade, one-to-one replacement and standard 90 CRI, a lighting upgrade utilizing the Lumination RI Series downlights can bring increased flexibility, energy savings and reduced maintenance costs to your facility, all while enhancing the original design integrity of your space. GE's Lumination RS Series LED Downlights offer manageable retrofit lighting solutions for high and low ceilings.
The Lumination RS Series LED Downlights for low ceilings
The Lumination RS Series LED Downlights for low ceilings delivers 700 fixture lumens at 70 lumens per watt. With a sleek design offering beautiful, consistent color, the RS series is an ideal solution for boutique, restaurant, hotel or residential spaces to fit any budget. With the inherent flexibility of LED lighting, the RS Series' 2700K and 3000K versions offer 80 CRI and a 35,000-hour rated lifetime for reduced energy and maintenance costs. Additionally, it provides superior dimming and control functionality.
With contractor-grade options available, Lumination RS Series LED DownLights take just minutes to install in most six-inch recessed can housings, reducing labor expenses and saving time. Simply remove old bulbs, pull down the mounting plate with the socket attached, screw the new RS Series fixture into the socket, and slide it back into place.
"With its clean design and simple installation, the Lumination RS Series is an ideal solution for low-ceiling retrofits," said GE Indoor LED Fixture Product Manager John Koster. "Long life and reduced energy requirements make them the perfect choice for budget-conscious applications."
The Lumination RS Series LED Downlights for high ceilings
With 6-, 8- and 10-inch sizes and up to 4,000 lumens, the RI Series is ideal for spaces with 20- to 40-foot ceilings that can be challenging to upgrade and maintain. Specialized equipment and training may be necessary for facility personnel to safely reach these fixtures, but the Lumination series can help alleviate those headaches without sacrificing range of options and flexibility. Plus, the Lumination RI Series' tool-free installation can be completed in just minutes.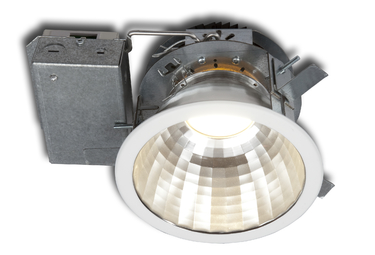 Powered by GE Lighting's Infusion LED downlight module, its twist-fit technology makes it easy to change lumen levels and color temperatures in the field to hone in on the perfect spec for your application. Additionally, the RI Series provides Infusion LED technology to existing metal halide, CFL and halogen recessed cans.
The RI Series has a 50,000-hour rated lifetime that can significantly slash maintenance time and costs. It maintains and enhances aesthetic quality and can be used to specify individual lighting modules from 1,000 to 4,000 lumens with color temperatures of 2700K, 3000K, 3500K and 4000K and a CRI of 90. The RI Series is available in several sizes and reflector and trim colors to match existing applications without compromise for increased versatility in a variety of applications.
"With the long life and high lumen output of the RI Series, facility managers can rest easy knowing their maintenance dollars will no longer be going toward lifts and scaffolding for lamp replacements," said GE LED Module Product Manager John Koster. "GE incorporated the Infusion downlight module, which provides maximum performance and brightness of the latest LED technology and simple customization of a lighting scheme to best fit the environment."
Category:
LED Panel Buyers Guide
,
LED Panel Light News
| Tags:
led bulb light
led lighting
LED products
led solution
oled panel

Other Items in this category