Inspired by a classic holiday poem, "Twas the Night Before Christmas," this year's National Christmas Tree on display in front of the White House will feature GE's new, energy smart® Sugar Plum light-emitting diode (LED) holiday lighting. This year marks the 51st year GE Lighting has designed and donated lighting for the tree, and tonight families will gather to celebrate this lighting ceremony, an annual holiday tradition.
Although the complete design of this year's tree will remain secret until the unveiling tonight, once the switch is flipped on, the tree will feature 60,000 festive, LED lights, including Super-Bright Sugar Plum lights and warm white twinkling sphere ornaments. The Sugar Plum ENERGY STAR-qualified LED multi-color lights come in a matte finish, mirroring the look of traditional holiday lighting. Additionally, this year's National Christmas Tree will glimmer brightly with its heirloom star-shaped topper with commercial-grade Tetra® MAX LED system that's typically used in commercial signage.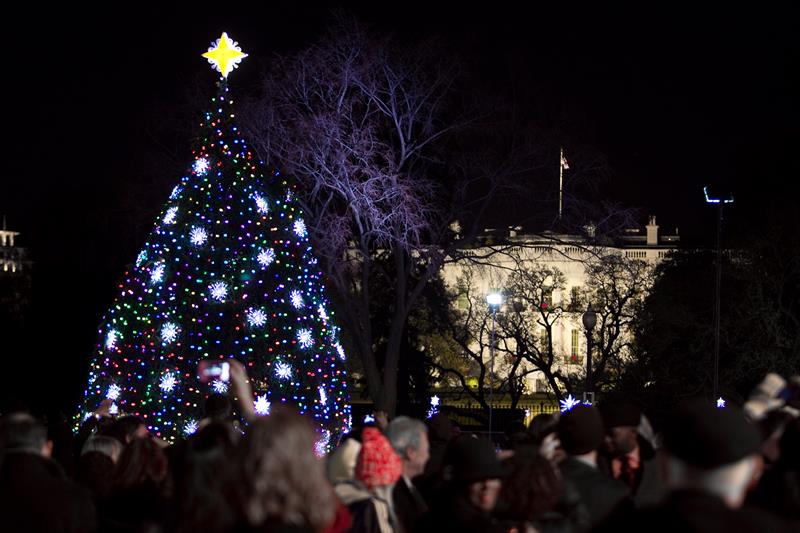 "We are very proud to be part of this great tradition and to be able to bring new technology into the design," said Mary Beth Gotti, Manager of the GE Lighting Institute and holiday lighting designer for the National Christmas Tree. "Each strand of GE LED holiday lights consumes up to 80 percent less energy than incandescent holiday lights and provides similar light that consumers love from traditional incandescent holiday lighting."
Holiday Lighting décor tips
While the National Christmas Tree has been all-LED holiday lighting for the past four year, it is expected that two out of every five holiday lighting strands sold this holiday season will be LED. As you begin your own holiday decorating, our lighting design experts have put together a few helpful tips to keep in mind:
•    Find inspiration. Every year, thousands of tree lighting ceremonies take place all over the country. Draw ideas from these magical designs for your own tree. The same Sugar Plum LED holiday lighting used for the National Christmas Tree can be found at most major retailers.
•    Plan ahead. When considering the amount of lights needed for your own Christmas tree, plan on using an average of 100-150 lights per vertical foot of the tree.
•    Mix lighting styles. To make holiday lighting stand out, pair strings of different sized lights together to add depth to décor. On the tree, set a base of white lights at the bottom and continue upward, adding strands of large bulbs and novelty lights for color and variety.
Category:
LED Panel Buyers Guide
,
LED Panel Light News
| Tags:
led
led components
led high brightness light
led lamp
led solution
led technology

Other Items in this category