When LPL Financial, the nation's largest independent broker/dealer, an RIA custodian and an independent consultant to retirement plans, began envisioning a new zero net energy (ZNE) office building, it set four strategies to drive the project—energy efficiency, health and wellness of employees, connectivity and flexibility. Architects had a vision for a 13-floor, 415,000-square-foot office tower in San Diego, and designers had a desire for an efficient office lighting system that felt comfortable to occupants, allowed for added savings through dimming and daylight harvesting and could easily accommodate the changing needs of a growing business.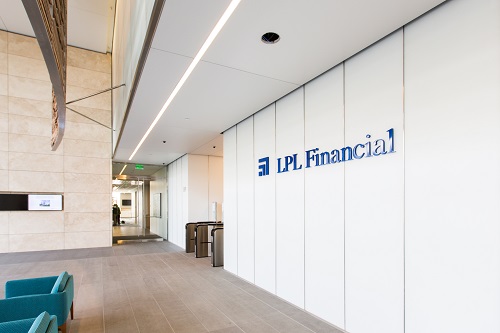 "GE rolled up their sleeves and got to work," said Otto Orr, V.P. of project management, corporate real estate, LPL Financial. "They flew to Charlotte and immediately got engaged with our engineering team—looking at sketches, switching from fluorescent, eliminating fixtures. I've never seen a supplier jump in like this. Generally they're looking for the architect to churn out drawings, and then they're going to give you a proposal.
"From the start we felt like GE was one of us. They showed us that an LED solution was possible."
At ease with LED
After investments in fuel cells for a consistent source of clean electricity, as well as an under-floor air-distribution system to reduce heating and cooling loads, LPL needed a similarly energy-conscious lighting strategy to help achieve its net-zero goal.
"We went in assuming we couldn't afford LED office lighting within the project scope, and were hesitant to trust the technology in an interior space," said Orr. "We'd seen a lot of advancements with LED in exterior and commercial areas, but we hadn't come across counterparts doing it in a classic office setting. We pushed hard to explore available options with other manufacturers, before we realized GE was in the indoor fixtures market segment.
"After we sat down with them, we got very comfortable with the technology very quickly."
By analyzing architectural drawings, GE's experts conceived a new lighting scheme that converted fluorescent fixtures to LED, and further eliminated a number of them entirely, reducing total fixture count by nearly 40 percent.Lumination? BL Series LED Luminaires were chosen for common aisles and employee areas—the long, narrow bands of light are integrated within the ceiling to lend a stunningly clean, contemporary look to LPL's new office.
"The lights just go away in the ceiling," said Orr. "It's gorgeous. As you look down the plane you can't even see the fixtures, and there are no shadow marks. It really works well with our layout."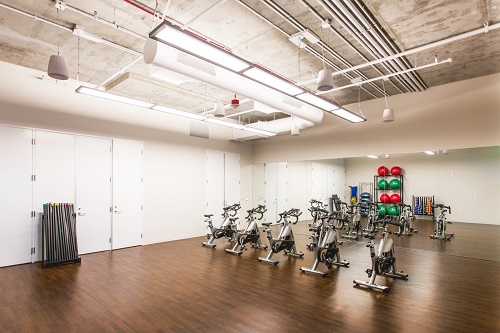 Control of costs
Orr explained that when it came to office lighting controls, GE again simplified and streamlined what could have been a complicated process.
"We were actually looking at a fairly complex lighting control system that added a lot of cost to the project. That's when GE demonstrated a much simpler solution that met our needs. More importantly, when you have a project this size, typically you have a lighting supplier, a controls manufacturer and a project manager involved.
"With GE it felt good to have all of that—a full lighting solution and a controls package to go with it—all in one bucket."
With GE's LightSweep? lighting control system and Aware? occupancy sensors, LPL now enjoys dimming and daylight harvesting capabilities on every floor, which are zoned to allow individuals to make their own adjustments.
"If an employee wants to dim down a workstation or a programmer wants a certain light level, we can do that without paying a fortune for features we don't need," said Orr, adding that throughout the entire project, LPL appreciated how GE was able to coordinate delivery and implementation for all lighting needs via its local San Diego partners Del Sol Resources and Crescent Electric Supply.
"Crescent's partnership with Del Sol Resources and area contractors, plus its ability to provide dedicated project management and storage, staging and timely delivery of the LED fixtures by floor were also factors in making this a very successful project," Orr said.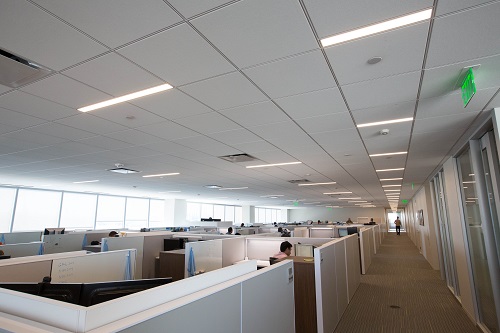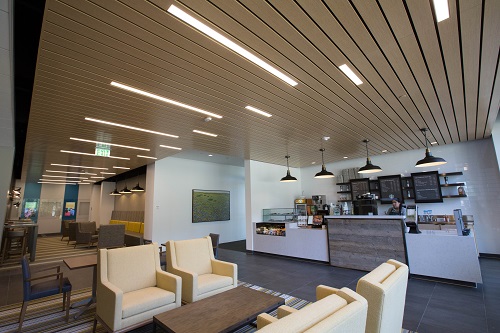 Designed to adapt
GE's improved office lighting layout also gives LPL Financial a great degree of future flexibility.
"We designed the building with raised flooring and demountable walls in order to easily tear down and build up new configurations over time," Orr said. "GE helped us create a regimented lighting pattern that puts all the fixtures right where they need to be to accommodate either an office or a workstation. It's a universal plan that will allow us to ebb and flow seamlessly with our business unit reorganizations."
Tracking returns
LPL will save an estimated $38,000 annually in lighting energy costs with LED opposed to fluorescent. Each floor of its new San Diego tower is metered to measure HVAC, plug, and lighting electrical loads separately. This data, displayed on an LCD monitor in the main lobby helps to make employees more informed about energy savings in the building.
The tower utilizes three fuel cells to convert biogas into carbon-neutral electricity that will allow the building to achieve net-zero energy status, and all surplus power is pushed back to the grid through San Diego Gas & Electric. Eighty-eight percent of the tower's water consumption, nearly 2.5 million gallons annually, is recycled and used for irrigation and other building needs. On-site charging stations for electric vehicles are also available for employee use at no cost.
Finishing touches
The near 100-percent LED-lit building also uses GE's Lumination? BT Series LED recessed troffers in ceilings, as well as LED architectural lighting on walls and LED task lighting at workstations.
"You read stories about LED lights degrading—the color spectrum getting away from you, lights actually turning a different color," said Orr. "After we heard about the research and all the hours of testing that GE puts in, we felt much better about product quality. But if there would be a failure, you want to make sure that a replacement is available, and we felt GE would be there to support us years down the road, which is something you can't say for all brands."
"The cost, the warranty, and the payback were all there, which made it easy to absorb GE's LED lighting solution into the project scope."
Future plans
LPL will closely study the San Diego building for the next few years and will immediately employ best practices like LED lighting in new construction projects, including an office in Charlotte, N.C.
"We believe we are the country's largest net-zero commercial office building," Orr said. "The passion was there, and now our group, including GE, drives it forward. This building shows our dedication to our employees and the environment—we created a net-zero strategy that, when we look back, we'll be proud to say our activities and outreach started here."
Category:
LED Panel Buyers Guide
,
LED Panel Light News
| Tags:
led components
led high brightness light
led light
led light panel fixtures
led lighting

Other Items in this category