Walmart announced plans today to purchase energy-efficient LED ceiling lighting fixtures for new supercenters in the United States, stores in Asia and Latin America, and Asda locations in the United Kingdom. The new fixtures will use 40 percent less energy than lighting sources historically used in stores, and will help further the retailer's goal to reduce the kilowatt hour (kWh) per square foot of energy required to power Walmart's buildings globally 20 percent by 2020. This is Walmart's largest purchase of GE LED lighting to date, and the most recent example of leadership from Walmart and GE to find and scale innovative, energy-efficient lighting solutions.
"We have worked to find and scale energy-efficient LED lighting solutions that are cost effective and high quality, and now working with GE, we're paving the way to make this a mainstream solution for the retail industry," said Doug McMillon, president and chief executive officer of Wal-Mart Stores, Inc. "LEDs have become an integral part of our energy efficiency model for our stores and play a key role in achieving our overall sustainability goals. Just as important, the energy cost savings coming from these innovations will help us maintain the low prices our customers depend on us to provide."
With the main sales floor lighting representing approximately 90 percent of the total lighting usage in each building, this implementation will reduce energy use per store by more than 5 percent in the U.S. alone. The lights have a longer life span than traditional lighting fixtures and also offer significant savings in maintenance costs.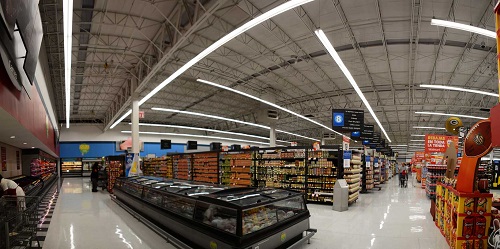 Installation of the new GE LED ceiling lighting will kick off this month at Asda, Walmart's business in the U.K. In 2014 alone, Walmart and GE project overall new stores and lighting energy savings compared to prior lighting fixtures to total as follows:
• Brazil: 30 store remodels; 41 percent energy savings
• Central America: 10 new stores; 54 – 59 percent energy savings
• China: 24 new stores, 16 store remodels; 42 percent energy savings
• Mexico: 37 new stores; 45 percent energy savings
• U.K.: 10 new stores; 45 – 51 percent energy savings
• U.S.: 30 new stores; 15 percent energy savings
"We've had a long and successful relationship with Walmart, increasing our environmental efforts together," said Jeff Immelt, GE Chairman and CEO.  "A leader in seeking energy efficiency in the retail industry, Walmart's energy-conscious focus allows the company to attain a substantial cost savings in electricity. We value our longstanding relationship with Walmart and are proud to work with them in reducing their environmental impact."
Walmart and GE have a rich history of collaborating to develop lighting products to meet Walmart's needs. Walmart pioneered the use of LED systems in the retail setting and was an early adopter of LED signage in 2003. In 2005, Walmart worked with GE to install what is believed to be the first major rollout of an LED freezer case. Additionally, Walmart's store parking lots in the U.S. and abroad were among the first in the industry to switch to LED lighting fixtures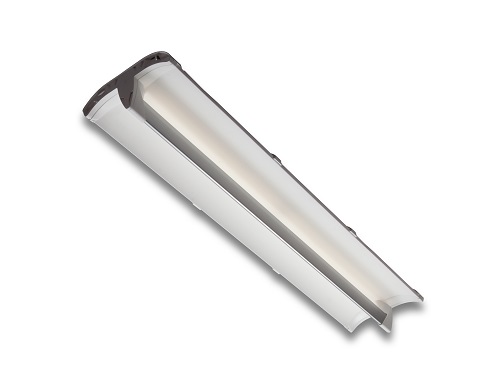 The move to LED ceiling lighting in the U.S. is expected to produce an energy savings of 340,000 kilowatt hours per store – equating to more than $34,000 in savings per year in each store (figured at 10.13 cents per kWh1). With 200 new Walmart stores adopting the new GE LED ceiling lighting over the next two years, this amounts to a total energy savings of 620 million kWh over the next 10 years — savings Walmart expects to pass on to its customers through its everyday low prices.
This expected total energy savings over the next ten years is equal to eliminating 327,360 metric tons of carbon dioxide emissions — or the annual greenhouse gas emissions from more than 68,000 passenger vehicles or the energy use of nearly 30,000 American homes for one year.2
The decision to install GE LED lighting results from a pilot program at Walmart's first all-LED supercenter in South Euclid, Ohio, that was launched in October 2013. This pilot allowed the company to gauge the quality and efficiency of the GE lights and determine the return on investment with LEDs. Featured in the stores will be a variety of GE lighting technologies, with the Lumination™ IS Series Luminaires being prominently used in the ceiling application. These fixtures are also part of GE ecomagination, the company's commitment to technology solutions that save money and reduce environmental impact.
This increase in LED lighting installations in Walmart stores throughout the world supports the company's broader energy efficiency goals. As another example, Walmart has undergone a program to replace current T5 fluorescent lights with LEDs throughout its distribution center network. This effort, combined with the installation of more efficient liquid circulation pumps for some refrigeration systems, led to a decrease of more than 30 million kWh and a savings of more than $2 million. The full retrofit of LEDs in the distribution center network is expected to be complete in 2016.
Category:
LED Panel Buyers Guide
,
LED Panel Light News
| Tags:
led light panel fixtures
led lighting
LED products
led technology

Other Items in this category