Gallery at Boston Historic Museum of Natural History Majestically Lit Up with LEDs

Home » LED Industry News » LED Panel Light News » Gallery at Boston Historic Museum of Natural History Majestically Lit Up with LEDs
This majestic, historic building now houses Restoration Hardware's Flagship Store. After sitting empty for years, façades and roofs were restored and a vibrant, new use of the building's interior was realized. Now a retail establishment, treatment as a monument, true color and daytime concealment were critical requirements. All façade lighting fixtures are completely concealed, evoking the desired "light from nowhere" look. Though 95 percent of this lighting is LED, multiple high-CRI source types are employed to accommodate the building and owner's varied finishes, colors and proportions.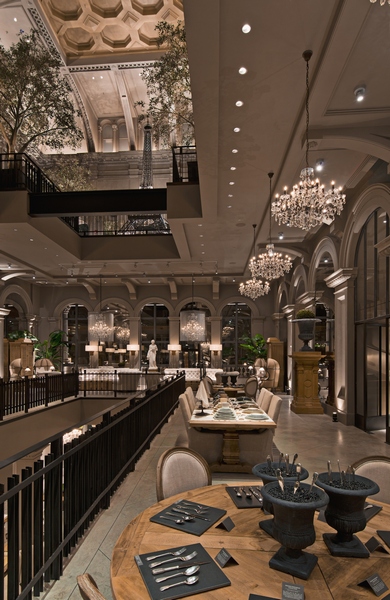 High contrast focal lighting and moody galleries were to be avoided. Highlighting of merchandise and architectural features is achieved through color temperature variation. Multiple layers of light support an aesthetically pleasing retail hierarchy and avoid high contrast. Certain architectural elements are featured to harmonize with the merchandise. The site, landscape, façade and interior architectural lighting aim to frame and guide guests on a unique shopping experience.
What is most interesting regarding the use of Eaton's Cooper Lighting products is that there was no intention to package the design. Fixtures were selected by an independent lighting designer to fulfill team desires, wants, needs and visions. The design team notes that various lighting distribution and output options, excellent color, low profile and reliable performance combined to make io the single choice for the majority of both interior and exterior linear LED strips. Low aperture brightness and small size, field changeable optics, outstanding color, superior quick aiming and lockable optical chains and options exceeding competitors' products also made IRiS the single choice.
Project: The Gallery at the Historic Museum of Natural History Restoration Hardware, Boston, Massachusetts
Design Team: Ross De Alessi, IALD, MIES; Norm Spencer, I.A.T.S.E. United Scenic Artist; and Neil Reeder
Photography:  Brett Drury Photography (exterior) and © 2013 Doug A. Salin – www.dougsalin.com (interior)
Products from Eaton's Cooper Lighting business used in the application: IRiS, io
Category:
LED Industry News
,
LED Panel Light News
| Tags:
led
led components
led high brightness light
led light panel fixtures

Other Items in this category