Evluma is taking orders for the latest release in its expanding line of utility-grade LED area and security lights, the 70W AreaMax. With twice the LEDs and a higher lumen output than the existing 40W models, the 70W AreaMax is designed to replace up to 200W HID lights and delivers 94 lm/W. With this release, Evluma has also improved the internal maintenance and monitoring functions for the entire AreaMax product line.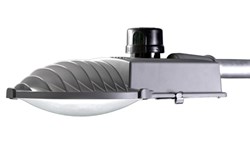 "The AreaMax delivers more than light; it maximizes energy savings with controls and minimizes maintenance costs with built-in Photocontrol Failsafe Mode (PCFM) and new FaultCast BLE (Bluetooth Low Energy) broadcasting," said Keith Miller, President and CEO of Evluma. PCFM runs on a processor internal to every AreaMax monitoring the location-based dusk-to-dawn transitions unique to that fixture. Should the photocontrol ever fail, the AreaMax will take over based on the information it has collected. Customers are recommended to reuse their old photocontrol from previous installations. "The AreaMax is very gentle on the photocontrol and only uses it as a sensor. Some LED fixtures require expensive photocontrols because of the high in-rush current from LED drivers flowing through the photocontrol," said Keith. The AreaMax is designed to work with the same inexpensive photocontrols used on the legacy HID lights. In the event of a lighting strike, a replaceable, in-line 20kvA surge protector makes repairs easy, protects the photocontrol and protects fixtures down the line.
Customers with ConnectLED can unlock the full potential of the AreaMax. As before, dimming schedules, permanent brightness settings, and commission/decommission can all be set remotely. New in 2014 all AreaMax have FaultCast BLE. Maintenance staff can remotely survey any AreaMax from the street. If there is a problem an AreaMax will transmit one of three possible fault conditions: decommissioned, sensor failure, or luminaire failure; all issues that are hard to determine during the daytime when the luminaire is typically 'off.'
Even with the extra functionally the base cost of the AreaMax remains low, making it one of the most affordable area light options on the market. With less than 1% uplight on the popular dome lens configuration, a 0% (U0) option is also available when absolutely no uplight is preferred. In all configurations the AreaMax emits a diffuse, soft white light preferred over HPS and MV.
Category:
LED Industry News
,
LED Panel Light News
| Tags:
DALI
led components
led light panel fixtures
LED products

Other Items in this category