With the keen competition of LED market, products of different qualities have flooded the industry. Every manufacturer states that the lifespan of their products can up to tens of thousands of hours and their efficacy is extremely high. But without specification, the real performance of those products is doubtful. In view of this phenomenon, California Energy Commission (CEC) developed the quality LED lamp specification in 2012. The CEC specification focuses on six key quality attributes for LED lamps, including color temperature, color consistency, color rendering, dimmability, lifetime and light distribution. The CEC standard requires all lamps shall have color rendering index (CRI) ≥ 90 and R9 > 50. This specification will become effective in January 2014.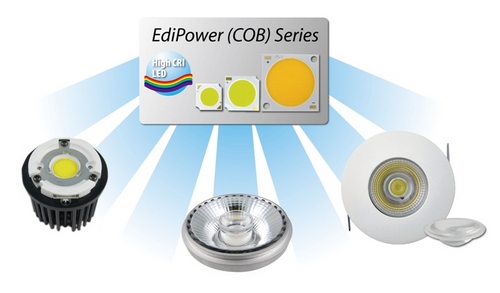 To satisfy market demand, the Taiwanese leading LED manufacturer, Edison Opto, has been dedicated to promote a better living environment and never stop creating high efficacy LED products since their establishment. By virtue of seven-year experience in COB development, Edison Opto has introduced the high efficiency EdiPower II HM series which attracts the attention of industry. Recently, in order to respond to the market demand, Edison Opto has upgraded the CRI value of HM series up to 90 and met the requirement of R9>50. This breakthrough makes HM series become a preferred choice of museum and hospital lighting where require high CRI light sources to present the actual color of objects.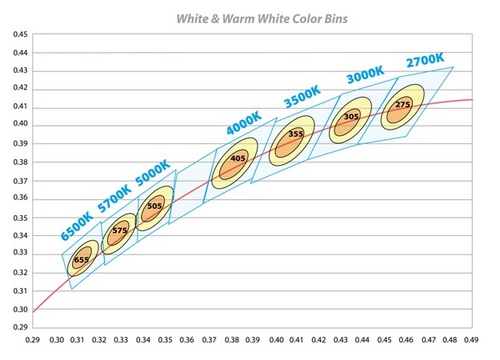 With high quality standard, Edison Opto's COB components can keep pace with international manufacturers' products. To help customers and lamp designers to distinguish product chromaticity, Edison Opto refers to the specifications of Energy Star and adjusts the original BIN group. At present, the COB products are grouped in 3-Step and 5-step MacAdam ellipse. The new BIN group makes CCT control more accurately, and thus improve the product homogeneity. Up to 98 percent of Edison COB products are within a 3-Step MacAdam ellipse and 90 percent are within a 5-step MacAdam ellipse. And that means Edison Opto has achieved the goal of color consistency. Those products are particularly suitable for applications requiring high color homogeneity, such as gallery, printing factory and stage lighting.
Category:
LED Panel Buyers Guide
,
LED Panel Light News
| Tags:
led components
led high brightness light
led light
led lighting
led patent

Other Items in this category