The recalls of LED lighting products from European RAPEX (The Rapid Alext System for Non-food Consumer Products) were much more frequently in the past months, according to a report by global certification auditing institute DEKRA. The second quarter report of RAPEX shows that total 32 recalls of LED lighting products were due to safety issues. Among those recall list, you can see that even famous international brands were reported, it thus reveal a truth that quality of LED is a big concerned by both authority and consumers. The recalls list of Q2 report are:
15 recalls from Hungary
5 recalls from Finland
3 recalls from Slovakia
Other recalls from United Kingdom, France, Italy, Germany, Lithuania, Spain.
The country of origin of the above most recalls are from China. From the frequent recalls, it reveals that European Authority are concerning about the quality of China production. The reason of those recalls are subjected to three major hazards: Electronic shock, burns and fire. Details refer to following charts.
 The types of lighting products recalled (left) and hazards reported in recalled products (right).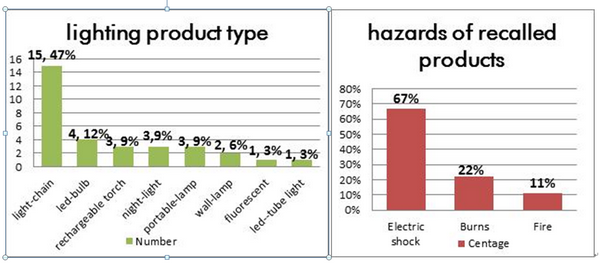 RAPEX is established as the EU rapid alert system that facilitates the rapid exchange of information between Member States and the Commission on measures taken to prevent or restrict the marketing or use of products posing a serious risk to the health and safety of consumers with the exception of food, pharmaceutical and medical devices, which are covered by other mechanisms. Every Friday, the Commission publishes a weekly overview of the products posing a serious risk as reported by the national authorities (the RAPEX notifications). This weekly overview gives information on the product, the identified risk and the measures that were taken in the notifying country.
DEKRA would like to remind our Chinese manufacturers and exporters to take good control of quality management, so as to avoid risks on international trade, since recalls will be fatal blow for small enterprises. The effect of a recall is not only costs and profits, but also brand reputation. In many cases, it shows that a recall results a death of an enterprise.
Category:
LED Panel Buyers Guide
,
LED Panel Light News
| Tags:
led
led lamp
led light
led lighting
LED products
led solution

Other Items in this category