Cree, Inc. introduces the new 8000-lumen LMH2 LED
Module, a no-compromise, easy-to-use solution for
high-ceiling applications. The 8000-lumen LMH2 is
designed to replace 150-watt ceramic-metal-halide
(CMH) lamps while using only 63 percent of the power
and lasting three times as long. With the addition of the
8000-lumen LMH2, the Cree® LMH2 LED Module family
offers the industry's greatest range of lumen output
from a single form factor, making it possible to
obsolete CMH technology.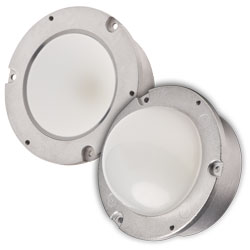 "The new Cree® 8000-lumen LMH2 LED Module allows
us to effectively address high-ceiling, high-lumen
applications without having to sacrifice color quality or
reliability," said Wesley Johnson, product manager, Hi
-Lite Mfg. "We can now easily offer our customers
better lighting solutions to replace 150-watt ceramic-
metal-halide lamps in spaces such as convention
centers, airports, auditoriums and shopping malls."
Cree's LMH2 LED Module family provides an extensive
range of light output (850 to 8000 lumens) from a
single light source, enabling lighting manufacturers to
quickly develop an entire product portfolio with just
one set of tooling and optical design. Lighting
designers can now utilize one light source and
technology to illuminate an entire space and avoid
problems such as color inconsistency and re-lamping.
"Having an 8000-lumen option in the LMH2 LED Module
family gives us the flexibility to create an entire
product family from a single form factor," said Chris
Roemlein, president, Spectrum Lighting. "Cree's ability
to increase the performance of the LMH2 Module allows
us to address a wide range of ceiling heights with
minimal design investment."
Category:
LED Panel Buyers Guide
,
LED Panel Light News
| Tags:
led bulb light
led high brightness light
led patent
led technology
oled panel

Other Items in this category