Cree, Inc. marks another milestone in LED lighting with the introduction of the new Cree® LED 75-watt Replacement Bulb.  The game-changing Cree LED Bulb now shines even brighter with the 75-watt option. The revolutionary bulb looks and lights like a traditional incandescent bulb but uses 82 percent less energy and is designed to last 25 times longer. Conceived from the start to make quality LED lighting accessible to all, the new Cree LED Bulbs retail for $23.97 – delivering consumers a higher output LED bulb in a standard form factor that is priced less than competing 75-watt replacement LED bulbs.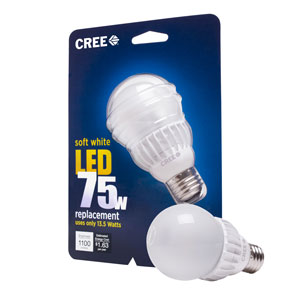 Cree LED Bulbs are the ideal replacement for energy-wasting 75-watt incandescents and compromise-laden CFL lighting. Boasting the same shape and size as the popular A19 traditional bulb, the Cree LED 75-watt Replacement Bulbs can be placed in most lighting fixtures in the home. Unlike many low-priced LED bulbs, Cree's omni-directional LED bulbs turn on instantly and are easily dimmable with most standard incandescent dimmers. The high-performance bulb is illuminated by Cree LED Filament Tower™ Technology and provides a compact optically balanced light source within a real glass bulb to deliver consumers the warm light they love and want.
The Cree LED 75-watt Replacement Bulb delivers 1100 lumens, consumes 13.5 watts and is available in soft white (2700K) color temperature. The barrier-breaking bulb is backed by Cree's industry-leading 10-year limited warranty.
Category:
LED Panel Buyers Guide
,
LED Panel Light News
| Tags:
led
led components
led lamp
LED products
led solution
led technology

Other Items in this category