The Center for Process Innovation (CPI) has produced a range of flexible OLED demonstrators. Manufactured on CPI's OLED/OPV Prototyping Line, the devices have been built on a range of substrates with thickness ranging from 50µm to 125µm. The device structure consists of an Indium Tin Oxide anode, evaporated hole injection layer, co-evaporated emissive layer and a conventional cathode. The device chemistry can be modified to produce a variety of colours and is encapsulated using a pressure sensitive adhesive and a commercially available barrier material. View a demonstration video of the OLED demonstrators.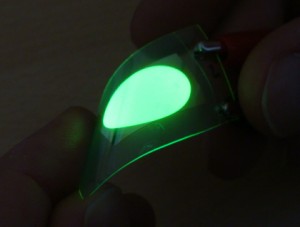 CPI's prototyping line has been designed to enable the development and production of organic light emitting diode and organic photovoltaic technologies. Located within CPI's state of the art ISO Class 5 clean room facility, the prototyping line provides materials companies, device designers and end users with the opportunity to develop their technology within an automated and closely controlled environment.
CPI is currently investigating a number of methods for device encapsulation and is collaborating with adhesive, getter, and barrier film suppliers to produce robust manufacturing processes aimed at maximising lifetime and device performance. Work is being carried out via collaborative programmes OLAE + (Flexibilis) and TSB (HiPBE) to produce prototypes for the characterisation and development of high performance barrier layers.
 CPI's technology roadmap is targeted at advancing the development of flexible optoelectronic devices and to address many of the challenges encountered in scaling up emerging technologies to commercialisation by adopting roll to roll processing techniques.
CPI plans to further enhance its capability with the installation of a 300mm web roll to roll (R2R) coater for the printing of a range of organic material sets. The system will include both slot die and screen printing capabilities, with options to upgrade to 500mm web width and to incorporate other printing techniques such as reverse gravure. CPI will also install an encapsulation module allowing devices manufactured within the roll to roll coater to be laminated using a barrier film, thus providing protection to the device from water and/or oxygen ingress, both of which are detrimental to device performance and lifetime.
Category:
LED Panel Buyers Guide
,
LED Panel Light News
| Tags:
1-10v
DALI
led components
led technology
oled
oled panel

Other Items in this category