Aurora Lighting from UK saw Light+Building 2014 as the perfect platform to showcase their Red Dot Award winning product, the m10 LED fire rated downlight.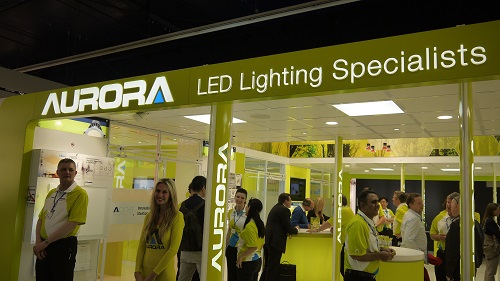 In one of the world's largest product design competitions, UK lighting manufacturer Aurora Lighting snatched up the Red Dot Award for Product Design 2014. Their award winning product was the only lighting product displayed at Light+Building 2014 that incorporated a HV LED module with dimming capabilities, observed LEDinside Research Director Roger Chu. Aurora Lighting has seen great success with their m10 LED fire rated downlight, which has sold over 10,000 units in a single month. It is the fastest selling lighting product with HV LED and Driver on Board technology.
Aurora's m10 is designed using four core technologies, said Aurora Asia CEO Jack Huang. CrystalCool is a thermal management technology that provides faster heat dissipation, which strengthens the light source and luminaire features, while extending lifetime. LEDChroic lens can produce the same visual effects as a halogen light source.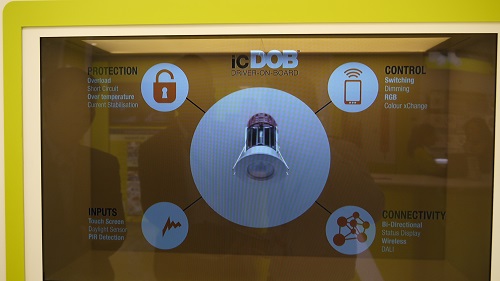 The other two core technologies include icDOB (Driver on Board) and HV LED. The icDOB is compatible with over 120 types of international dimmers. The icDOB in combination with an HV LED infrastructure, removes the need for an external driver. Generally, electrolytic capacitors in drivers are easily affected by high temperatures which shorten the lifespan. By removing the electrolytic capacitor, the lifespan of a LED luminaire can be extended.
Orders for the m10 have been pouring in. The company began production expansion plans for their Jiangxi factory in China towards the end of last year. After completion, annual gross production is set for US $30 million to US$ 50 million.
Category:
LED Industry News
,
LED Panel Light News
| Tags:
led bulb light
led high brightness light
led light panel fixtures
led lighting

Other Items in this category