Amerlux Launches New Slim-line LED Linear Lighting Solution

Home » LED Panel Buyers Guide » Amerlux Launches New Slim-line LED Linear Lighting Solution
Designed as a family of architectural slim-line recessed and pendant mounted luminaires common in quality, efficiency and aperture size, Amerlux introduces the Linea 1.5 pendant and the Gruv 1.5 recessed family of LED linear luminaires that can transition nicely from walls to ceiling, to open ceiling applications, with an equally high level of aesthetics and performance. These miniature LED linear luminaires interact from multiple mounting applications in offices, conference rooms,classrooms and other institutional and commercial interiors.
"Our new Linea and GRUV 1.5 family delivers robust illumination while offering clean understated aesthetics and design continuity from discreet linear profiles," explained Amerlux CEO/President Chuck Campagna. "This system unveils a special combination of unobtrusive light sourcing with various mounting capabilities, superior performance, high-quality extruded materials and best in class LED technology and drivers."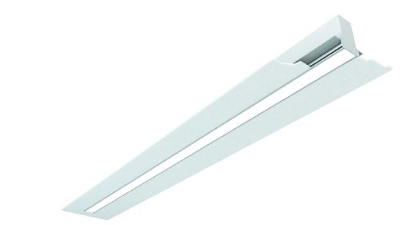 The Linea 1.5 and GRUV 1.5 share equal components and a miniature aperture that allows designers to create recessed patterns running walls and over ceilings, then transitioning nicely to open ceilings. Available at 5w or 10w per foot, luminaires deliver a high output with up to 650 lumens per foot and a significant efficacy at 73 lumens per watt. Custom sized lengths are available to meet designers' exact specifications.
Available with flanged or trimless styles, the luminaires can be recessed in ceilings or walls while performing at high levels in gypsum board, Armstrong TechZone™, USG Logix™, slot and t-grid ceilings, or J-mold for all configurations.
Luminaires can be individual or continuous row-mounted using a drawer latching system that provides easy and precise joining of units for straight runs, wall runs for longer runs with J channels, or in T or L shaped patterns.
Perfect for direct, indirect or both direct/indirect illumination, luminaires can be cable mounted for open ceiling applications, over desks or over a conference table, with or without a louver, or as architectural decorative lighting above a reception counter.
The system offers the industry's first linear LED fixture designed for use with a louver, for optimal glare control, light diffusion and sight line reduction. Full range dimming capabilities offered, as well as the option to operate with Lutron EcoSystem.
Other options include a broad array of accessories and more than 200 durable powder coat painted finishes to complement nearly any design scheme.
GRUV is also available in 4-, 6- and 12-inch apertures and with a fluorescent light source, while Linear is offered in other sizes using fluorescent. 2
Category:
LED Panel Buyers Guide
| Tags:
led components
LED products
led technology
panel led

Other Items in this category